The Chinese army reduces the rate of recruitment is on contract basis
Today in China, the parade was held on the occasion of the victory of the Chinese people from Japanese occupation. At the parade there were many guests and the leader of the
country
for all reported that China is a peaceful
country
and it will reduce his army to 300 thousand people. That is about as much as in the whole of Germany military. The army in China, the World is largest of its staff of approximately 2 million people. War and so lacking in the middle East war, Ukraine war, enough for two hot spots on the planet believes the leader of China. This is not worth it and develop your army, you need to show the World that China is a peaceful
country
and is not going to attack anybody. Although army of China is on the decrease, but it becomes more modern, there are already armed with powerful missiles that will destroy even the major compounds of warships. China simply does not need more of an army to contain the doctrine of the
country
has changed, the rate goes on the modernization of the army, for the procurement of new weapons and personnel in the amount of 2 million would be for any war on the continent and so will suffice. China military trains its new methods of warfare. Fighter in the new environment can survive only misrepresented if prepared for war, will know all the types of weapons and equipment. So as to educate the warrior skills need a lot of money, China just economically distributes military budget and he at this time is beneficial to reduce the army by 300 thousand people.
---
Comments (0)

Update capcha
---
China has adopted a program to stimulate the production of electric cars
China is a big country, there are a lot of cars on the roads, all of them work on traditional fuel with little exception, everything would probably continue to develop, if not for the desire of the government to reduce environmental pollution. After all, now, if you do not develop an alternative transport system, in the future in China on the streets without a gas mask does not go out....
China tightens regulation of streaming
If someone thinks that China is a free democracy, that it is a free society, he is clearly mistaken. China is a state with a rigid vertical of power. We can only say that the Chinese party considers it necessary, everything is subordinated to the ruling line of the party. If someone says something, does not, it is controlled and directed in the right direction, methods of influence enough....
Line speediest train is started In China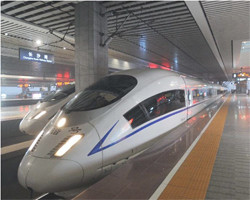 the December 26 in China have started in deal the too long railway pathway on which will be able to move the speed train. The Route is listed as G502 and has connected two high developed in industrial attitude of the city Guanichzhou and Pekin. The Distance between these two cities 2 298 km. The Train преодолеет this distance on velocities in 300 km whole for 8 hours. Usual composition spent on the whole way day, but also that if average velocity on route was 100 km. China constantly modernizes the railway and are chosen area with big passenger turn just. Basically this industrial centres. On given time in China already marketed too long pathway of the speed message.
Today in Ambience composition number 801 successfully went to the first way from station Peking aside Guanichzhou. Departure time 9 mornings. Simultaneously on one and the same route go three trains with difference at time. One came out of Pekin, the second came out of Hanchzhou, but the third came out of city Siani.
After started the new railway general extent speed pathways in China reached 9.3 thous. km, but after pair of the years on calculation she already will as minimum in two times long.