In the Black sea came two Chinese destroyers
On the 70th anniversary of the liberation of Crimea from the Nazis go two military frigates of China, the ships have already successfully crossed the Turkish Straits and move to the shores of the Crimea. Ships of China will take part in the parade together with the ships of the black sea fleet of Russia. China has sent two of the most modern frigate that at the end of the
ceremony
together with the black sea fleet ships sent to the Black sea, from there through the Turkish Straits into the Mediterranean, where they will spend tactical classes.
---
комментарии (0)

Обновить
---
China will be awarded the order of Friendship of China for the first time
The order of friendship of China was first awarded on June 8, before such a high government award of China was not given to anyone. The decree on awarding a new distinctive award has already been signed by the top leadership of the Communist party of China. This high award was established to celebrate the outstanding contribution to the development of the socialist modernization of China....
Bullfighting and the festival of torches a nation "I"
The feast of the torches with the fighting bulls and rams nation "And" celebrates every 24th day of the sixth lunar month. This day is celebrated one of the biggest holidays of the year, popularly called a "festival of torches". Grand celebration held in the County Butoh (Butoh — County in Liangshan-English Autonomous district, Sichuan province,)....
Line speediest train is started In China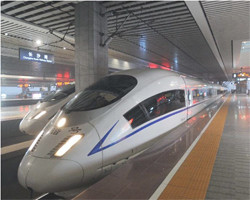 the December 26 in China have started in deal the too long railway pathway on which will be able to move the speed train. The Route is listed as G502 and has connected two high developed in industrial attitude of the city Guanichzhou and Pekin. The Distance between these two cities 2 298 km. The Train преодолеет this distance on velocities in 300 km whole for 8 hours. Usual composition spent on the whole way day, but also that if average velocity on route was 100 km. China constantly modernizes the railway and are chosen area with big passenger turn just. Basically this industrial centres. On given time in China already marketed too long pathway of the speed message.
Today in Ambience composition number 801 successfully went to the first way from station Peking aside Guanichzhou. Departure time 9 mornings. Simultaneously on one and the same route go three trains with difference at time. One came out of Pekin, the second came out of Hanchzhou, but the third came out of city Siani.
After started the new railway general extent speed pathways in China reached 9.3 thous. km, but after pair of the years on calculation she already will as minimum in two times long.