China has Russia is new air defense systems s-400
Russia has developed a new analogue of anti-air missiles, new weapons s-400, in service with Russia worth a lot of complexes With-300. Russia intends to sell in the near future the new s-400 to China, this is the first country in which Russia will supply its most advanced missile systems of a similar level. News shared the newspaper "Komersant". The fact that China sold some of the sophisticated weapons it already cancels all previously set levels relationship, want to buy s-400 many
countries
, but not many sell new Russian project. The fact that the new model is all they know, to make such systems extremely difficult, the supply of weapons to other
countries
very difficult. To serve a similar technique, you must at least prepare specialists, and this is not an easy process, it takes time and money for training and test firing. The fact that China made the offer on that sort of weaponry, is the fact that the level of trust between
countries
is much higher than one would imagine.
---
Comments (0)

Update capcha
---
China is constantly increasing imports of goods and services
China as it turns out can not do everything, but only that does not require a lot of mind or something that is easy to take from competitors and then at home to repeat. When it comes to very complex equipment, China considers it profitable to just buy it, because to do something like that in China can not yet, and there is a possibility that neither when they can not....
China has connected its territory with Vietnam by a wide highway
China is actively integrating into the Asian space, building new ports, bridges and roads for convenience. Recently, the construction of a highway between the center of Yunnan province and the Vietnamese province was completed. Now from the Chinese Kunming the way to the Vietnamese Haiphong is many times shorter, and the way is comfortable....
Line speediest train is started In China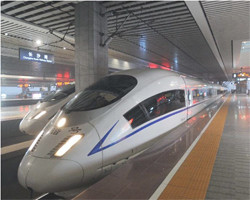 the December 26 in China have started in deal the too long railway pathway on which will be able to move the speed train. The Route is listed as G502 and has connected two high developed in industrial attitude of the city Guanichzhou and Pekin. The Distance between these two cities 2 298 km. The Train преодолеет this distance on velocities in 300 km whole for 8 hours. Usual composition spent on the whole way day, but also that if average velocity on route was 100 km. China constantly modernizes the railway and are chosen area with big passenger turn just. Basically this industrial centres. On given time in China already marketed too long pathway of the speed message.
Today in Ambience composition number 801 successfully went to the first way from station Peking aside Guanichzhou. Departure time 9 mornings. Simultaneously on one and the same route go three trains with difference at time. One came out of Pekin, the second came out of Hanchzhou, but the third came out of city Siani.
After started the new railway general extent speed pathways in China reached 9.3 thous. km, but after pair of the years on calculation she already will as minimum in two times long.