In 2015 will be held joint exercises with Russia and China
Putin is a pretty good politician, he time has found a friend and comrade in the face of strong and most importantly rich China. They continue to develop
cooperation
between Russia and China plan in 2015 to conduct large-scale military exercises in the Pacific ocean, and then in the Mediterranean sea. If you believe the statements of the Minister of defense of Russia, then so be it. This statement came from the lips of our master military strategist, after negotiations with the Minister of defense of the PRC.
Everyone knows that the potential in the field of military
cooperation
between the two countries is very large, can develop all areas of civilian and military
cooperation
. By the way, Russia and China this year held at the spring joint exercises "Sea interaction". Everything went just fine! Everyone is happy, and Japan in horror:)
---
комментарии (0)

Обновить
---
China has connected its territory with Vietnam by a wide highway
China is actively integrating into the Asian space, building new ports, bridges and roads for convenience. Recently, the construction of a highway between the center of Yunnan province and the Vietnamese province was completed. Now from the Chinese Kunming the way to the Vietnamese Haiphong is many times shorter, and the way is comfortable....
China will seek breakthroughs in integrated circuit technology
The lion`s share of semiconductor production is concentrated in Samsung factories, Koreans cover the lion`s share of requests in terms of chips and semiconductor elements. China though is for the production of semiconductor products in third place, but still dreams of leadership in the industry. The Chinese Ministry of industry recently told the press that China will seek breakthrough technology in the field of semiconductor production....
Line speediest train is started In China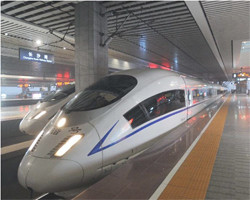 the December 26 in China have started in deal the too long railway pathway on which will be able to move the speed train. The Route is listed as G502 and has connected two high developed in industrial attitude of the city Guanichzhou and Pekin. The Distance between these two cities 2 298 km. The Train преодолеет this distance on velocities in 300 km whole for 8 hours. Usual composition spent on the whole way day, but also that if average velocity on route was 100 km. China constantly modernizes the railway and are chosen area with big passenger turn just. Basically this industrial centres. On given time in China already marketed too long pathway of the speed message.
Today in Ambience composition number 801 successfully went to the first way from station Peking aside Guanichzhou. Departure time 9 mornings. Simultaneously on one and the same route go three trains with difference at time. One came out of Pekin, the second came out of Hanchzhou, but the third came out of city Siani.
After started the new railway general extent speed pathways in China reached 9.3 thous. km, but after pair of the years on calculation she already will as minimum in two times long.