In China, created a drone scout similar to a pigeon
China is clearly preparing for some kind of war, create new weapons, create new technologies to kill and at the same time the population is growing exponentially. If you use an ordinary drone to monitor enemy movements, it will quickly notice and eliminate. In order not to be eliminated quickly, the cunning Chinese decided to disguise the usual drone under the shape of a bird.
Developed drone bird as part of a military program called "Pigeon". The purpose of the developers lies in the fact that to create as much as possible a realistic drone in the image and likeness of a pigeon. That if this "bird" will fly in pack with usual pigeons, it was not allocated in any way. At this time, in some places on the border with Mongolia used such drones scouts. A drone like a pigeon flies like a pigeon, it even flaps its wings in the air and makes different air somersaults. Such an
electronic
bird was equipped with a camera and a miniature transmitter. It is easy to see this
electronic
bird, but very few people can think of seeing a waving pigeon, that it is a real
electronic
machine with a camera and a portable transmitter. That no one will be in such
electronic
pigeon shoot.
---
Comments (0)

Update capcha
---
China intends to create a system for restoring damaged satellites in orbit
In China, work has begun on the creation of a special spacecraft that will be able to extend the working life of orbital satellites. News published almost all the Chinese Newspapers. Such an orbital module is very necessary not only for China, but also for all other countries that use space for their commercial purposes. Basically, the orbital satellites are out of order due to the fact that on their Board ends the fuel to adjust the orbit....
The rich Chinese are growing, their real estate investments are growing all over the World
China produces the most cryptocurrencies in the world, special farms for its extraction grow like mushrooms in those areas where electricity is cheaper than anything else. The attitude of the Chinese authorities to the cryptocurrency is not unambiguous, it does not prohibit the development of the direction, but in some way tries to regulate its distribution in the country as a means of payment....
Line speediest train is started In China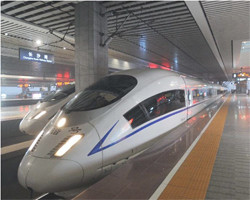 the December 26 in China have started in deal the too long railway pathway on which will be able to move the speed train. The Route is listed as G502 and has connected two high developed in industrial attitude of the city Guanichzhou and Pekin. The Distance between these two cities 2 298 km. The Train преодолеет this distance on velocities in 300 km whole for 8 hours. Usual composition spent on the whole way day, but also that if average velocity on route was 100 km. China constantly modernizes the railway and are chosen area with big passenger turn just. Basically this industrial centres. On given time in China already marketed too long pathway of the speed message.
Today in Ambience composition number 801 successfully went to the first way from station Peking aside Guanichzhou. Departure time 9 mornings. Simultaneously on one and the same route go three trains with difference at time. One came out of Pekin, the second came out of Hanchzhou, but the third came out of city Siani.
After started the new railway general extent speed pathways in China reached 9.3 thous. km, but after pair of the years on calculation she already will as minimum in two times long.