Exhibitions in China
You could be in China? There so much exhibitions that forms the impression that China lives on wheel. All spin around exhibitions and any presentation. Who that to whom that that yes shows each minute. All probably understandable become when understand that China stands on the first place both on export goods, and on import. In China of the investments go the direct flow, China has available mass of the money constantly creates the schemes which bring else more money. The worker of the place, new technologies and all go on circle (the Money-goods-Money). see This and there is that main reason, which removes the Chinese economy on first positions on many directions.
The Market of the production powers from China is spread and is varied. In China do and threads and needles and planes. Not high cost and rather normal quality has allowed chinese goods to occupy the worthy niche in World consumption. The Home market in China in the same way great, either as the market external, but on many factor exceeds last. But China does not stand on place and since each year improves its science and technologies. Builds the naves and planes in geometric progression. Creates the satellites and modern weapon, hereunder raising competitiveness their own goods on world level.
As already all became known old long ago, more advertisments, more sale and profit. But advertisment to advertisment discord and approaches time of the visual aidses. Exactly so each year is conducted in China so much exhibitions. The Exhibitions pass in industrial city, where all arrive itself to show and on goods of other companies to look. For this purpose we and publish you that the most popular places in china, where often be the interesting exhibitions.
«AsiaWorld-Expo»
«Beijing Eastern Garden International Conference Center»
«Beijing Exhibition Center»
«Beijing International Convention Center»
«Beijing National Agricultural Exhibition Center»
«China World Trade Center»
«The Great Hall of the People»
«INTEX»
«Liuhua Complex».
«Jinhan Exhibition Centre»
«Guangdong Dongbao Exhibition Center»
«Hong Kong Convention and Exhibition Centre».
«Pazhou Complex»
«SECEC»
«Shanghai Exhibition Center»
«SHANGHAIMART»
«SHICC»
«Shunde Exhibition Centre»

---
êîììåíòàðèè (0)

Îáíîâèòü
---
Line speediest train is started In China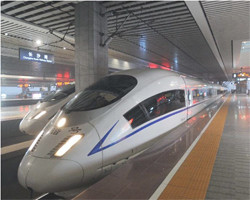 the December 26 in China have started in deal the too long railway pathway on which will be able to move the speed train. The Route is listed as G502 and has connected two high developed in industrial attitude of the city Guanichzhou and Pekin. The Distance between these two cities 2 298 km. The Train ïðåîäîëååò this distance on velocities in 300 km whole for 8 hours. Usual composition spent on the whole way day, but also that if average velocity on route was 100 km. China constantly modernizes the railway and are chosen area with big passenger turn just. Basically this industrial centres. On given time in China already marketed too long pathway of the speed message.
Today in Ambience composition number 801 successfully went to the first way from station Peking aside Guanichzhou. Departure time 9 mornings. Simultaneously on one and the same route go three trains with difference at time. One came out of Pekin, the second came out of Hanchzhou, but the third came out of city Siani.
After started the new railway general extent speed pathways in China reached 9.3 thous. km, but after pair of the years on calculation she already will as minimum in two times long.