The construction of a bridge across the Amur is in full swing
At this time, the two leaders realized the need for the construction of the great bridge over the Amur river. The need for such a facility arose after a substantial rise in the commodity turnover
between
the countries. China supplier in Primorye and Russia driven forest and mineral resources. From one side sanctions against Russia by the Western partners bad, and on the other hand, the situation contributes to the development of closer links with China. At this time is the first and only bridge across the Amur river in China. The nearest transport artery in China is 700 km, and if this place will be the bridge, then drivers will be less to be in the way, and businesses will spend less money for delivery of goods and services, everything has become cheaper for all. Can it? It`s a rhetorical question!
The design capacity of the bridge is approximately 22 million tons of cargo, the bridge is already built and at the end of 2016, it should start to work. New projects for the delivery of goods it is calculated from the position of existence of the new bridge
between
China and Russia.
---
Comments (0)

Update capcha
---
China has connected its territory with Vietnam by a wide highway
China is actively integrating into the Asian space, building new ports, bridges and roads for convenience. Recently, the construction of a highway between the center of Yunnan province and the Vietnamese province was completed. Now from the Chinese Kunming the way to the Vietnamese Haiphong is many times shorter, and the way is comfortable....
China attracts business to the country Ч the 17th international fair of Western China is opened
In Western China, in one of the most economically developed cities Ч Chengdu, started the seventeenth fair for business and trade. Chengdu is the most developed city in the Southwestern province of Sichuan. Representatives from 90 countries around the world have already confirmed their participation....
Line speediest train is started In China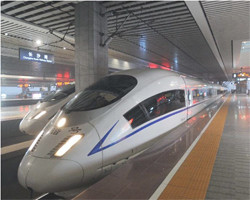 the December 26 in China have started in deal the too long railway pathway on which will be able to move the speed train. The Route is listed as G502 and has connected two high developed in industrial attitude of the city Guanichzhou and Pekin. The Distance between these two cities 2 298 km. The Train преодолеет this distance on velocities in 300 km whole for 8 hours. Usual composition spent on the whole way day, but also that if average velocity on route was 100 km. China constantly modernizes the railway and are chosen area with big passenger turn just. Basically this industrial centres. On given time in China already marketed too long pathway of the speed message.
Today in Ambience composition number 801 successfully went to the first way from station Peking aside Guanichzhou. Departure time 9 mornings. Simultaneously on one and the same route go three trains with difference at time. One came out of Pekin, the second came out of Hanchzhou, but the third came out of city Siani.
After started the new railway general extent speed pathways in China reached 9.3 thous. km, but after pair of the years on calculation she already will as minimum in two times long.