In China, launched the test of the autopilot system for high-speed trains
In the aircraft after climbing and entering the course can be used to facilitate the work of pilots special system of instruments and sensors, all together called autopilot for the aircraft. Chinese engineers went further, they decided to create a special set of systems that could be on the route of high-speed trains for some time to replace the driver.
The need for such systems with each new rolling stock is growing, and China is increasingly using high-speed rolling stock in railway transport, which sometimes requires a very rapid response. In some cases, engineers would like to put the process of controlling a high-speed car on the shoulders of electronics, creates an analogue of the autopilot in the image and likeness of what is used by pilots during air travel. Autopilot for high-speed trains is called CTCS3+ATO. Testing of the system passes on a segment of highway Beijing-Shenyang. So far, this branch is in the construction level of readiness, but when it works and the drivers begin to use the autopilot in their work, it will already mean at least that China and this technology has mastered and successfully implemented it on the new line. The system is very difficult to set up, in order to work it will take time, at least until the end of the summer of 2018. The data obtained will allow to build more modern Railways and high-speed rolling stock in the future.
---
комментарии (0)

Обновить
---
Line speediest train is started In China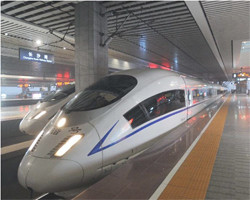 the December 26 in China have started in deal the too long railway pathway on which will be able to move the speed train. The Route is listed as G502 and has connected two high developed in industrial attitude of the city Guanichzhou and Pekin. The Distance between these two cities 2 298 km. The Train преодолеет this distance on velocities in 300 km whole for 8 hours. Usual composition spent on the whole way day, but also that if average velocity on route was 100 km. China constantly modernizes the railway and are chosen area with big passenger turn just. Basically this industrial centres. On given time in China already marketed too long pathway of the speed message.
Today in Ambience composition number 801 successfully went to the first way from station Peking aside Guanichzhou. Departure time 9 mornings. Simultaneously on one and the same route go three trains with difference at time. One came out of Pekin, the second came out of Hanchzhou, but the third came out of city Siani.
After started the new railway general extent speed pathways in China reached 9.3 thous. km, but after pair of the years on calculation she already will as minimum in two times long.