China is investing heavily in the economy of Cyprus
Chinese business has been actively investing in the economy of Cyprus. There is evidence that the Chinese company from Hong Kong bought in Cyprus near Paphos great object for 325
million
euros. Earlier this plot was owned jointly by two companies from Cyprus and one from England (Aristo Developers and Venus Rock Estates and Dolphin Capital Investors). Cypriot businessmen believe that the deal is very beneficial for the island, and such investments will create more than 1,000 jobs in the Paphos district. As an investor believes that at the initial stage will be even more jobs due to the fact that the object will need to pass in the stipulated time frame. The project Cyprus is estimated at 500
million
euros, while it is under construction, in the next six months will be completed. Next will be to develop and after about a couple of years its cost base will reach 1.5 billion euros. On the map this object can be found in the area of Ha-Potami (Paphos). It is a very large property, there will be two large Golf courses, a large hotel high-class store and office building, and the built-up area of 3000 houses different plan. For such a settlement was allocated a piece of coastline in one km. Whole 1000 feet of shops and various entertainment and shopping spots Such grandeur of the project was not in the Mediterranean, this economy will bring in taxes worthy payments.
---
Comments (0)

Update capcha
---
Where in China is kept imported gas from Russia?
The Chinese economy actively develops and for its development requires much power resources. One of such important and necessary resource is a natural gas. The Most fuel China imports from Russia. That gas which does not manage to use the direct supply swing in special underground reservoirs on big depth. Such vault in China 25, in them at desire possible swing before 11,7 mlrd. kub. m. natural gas....
In Northern China, all work is underway on the construction of the Menghua railway
The laying work of the Menghua railway, designed to transport coal from North to South China, began. Before the start of the train is still far away, at this time, construction crews started track laying works on the highway. Along the length of this railway line 1837 km, it will allow coal from the station Haolebaoji, which is located in the Inner Mongolia area to deliver to the city of Jian in the Eastern part of China....
Line speediest train is started In China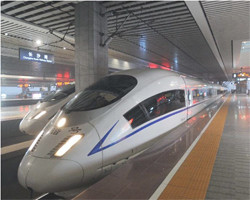 the December 26 in China have started in deal the too long railway pathway on which will be able to move the speed train. The Route is listed as G502 and has connected two high developed in industrial attitude of the city Guanichzhou and Pekin. The Distance between these two cities 2 298 km. The Train преодолеет this distance on velocities in 300 km whole for 8 hours. Usual composition spent on the whole way day, but also that if average velocity on route was 100 km. China constantly modernizes the railway and are chosen area with big passenger turn just. Basically this industrial centres. On given time in China already marketed too long pathway of the speed message.
Today in Ambience composition number 801 successfully went to the first way from station Peking aside Guanichzhou. Departure time 9 mornings. Simultaneously on one and the same route go three trains with difference at time. One came out of Pekin, the second came out of Hanchzhou, but the third came out of city Siani.
After started the new railway general extent speed pathways in China reached 9.3 thous. km, but after pair of the years on calculation she already will as minimum in two times long.