European brand Audi is promoting two new SUV models to the Chinese market
In China, you can earn as well as China earns in the rest of the big World and this has already become understood in Europe. If the population is not poor in most of its part, then in such markets you can not earn badly, and what the managers of the German brand Audi did. It all started as something not like everyone else, not with the most capacious and rapidly developing Asian market. The German company Audi showed off its unique Audi e-tron Electric SUV on March 21, 2019 in Canada with an eye to conquer the large North American market. In network a lot of photos from the forum in Vancouver.
Audi is not the only German company that promotes its cars in the Chinese market. No less well-known brand Volkswagen in order to make it easier to work in China created a joint venture with Chinese partners, called this company FAW-Volkswagen and also sells cars made in Europe. Moreover, FAW-Volkswagen launched two versions of the SUV in China, these are models with the Audi logo.
One of the models is a Rover class high-end with electric all-wheel drive, the second model Q2L is also an SUV class entry-level, it also runs on electric batteries. These two models were specially developed for Chinese consumers. In China there are a lot of cars and gas emissions into the atmosphere are simply enormous, so in China they go the way of advertising and promotion of electric-driven cars. Moreover, according to the representative of the German concern Audi, the joint venture FAW-Volkswagen intends to develop by 2025 to 30 new models of cars of the new series.
Audi in China is considered a Luxury car. For the entire period of 2019, 491 thousand cars of this brand were sold in China, which is 1.7% more than at the same time, but in 2018.
The growth of German brand sales will continue to grow commensurate with the growth of living standards in China.
---
Line speediest train is started In China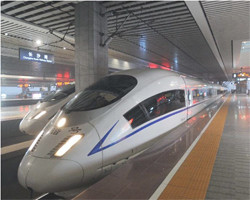 the December 26 in China have started in deal the too long railway pathway on which will be able to move the speed train. The Route is listed as G502 and has connected two high developed in industrial attitude of the city Guanichzhou and Pekin. The Distance between these two cities 2 298 km. The Train преодолеет this distance on velocities in 300 km whole for 8 hours. Usual composition spent on the whole way day, but also that if average velocity on route was 100 km. China constantly modernizes the railway and are chosen area with big passenger turn just. Basically this industrial centres. On given time in China already marketed too long pathway of the speed message.
Today in Ambience composition number 801 successfully went to the first way from station Peking aside Guanichzhou. Departure time 9 mornings. Simultaneously on one and the same route go three trains with difference at time. One came out of Pekin, the second came out of Hanchzhou, but the third came out of city Siani.
After started the new railway general extent speed pathways in China reached 9.3 thous. km, but after pair of the years on calculation she already will as minimum in two times long.