Chinese companies with U.S. sanctions this is not a bill!
Chinese companies are not much worried about sanctions against the Crimea and all sorts of prohibitions. How was working with Russia and continue to work on a broader level and with Crimea as Federal subject of Russia. On the Crimean market came Kerui company, which produces equipment for the oil and gas production. The decision to work in Crimea said the most important in the company, the Manager Wang Bin. This is a private company, which in the Russian market already more than 10 years. The company is willing to put their equipment in the Crimea, and are ready to repair and maintain. At this time there are active negotiations, said Vice President Kerui. Meantime, the company registers the company in Crimea and hopes that the country is leadership will help to quickly organize everything. Further, in the Crimea will bring their equipment, and if it is someone interested, we will negotiate on direct deliveries from China. If everything goes the normal way, the company
Kerui
will soon receive the status of residents in the free economic zone of Crimea. Chinese company if they receive this status, the taxes to pay what will not. In fact it is much more profitable than even in China itself from a manufacturer is perspective.
---
комментарии (0)

Обновить
---
Line speediest train is started In China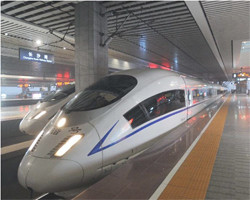 the December 26 in China have started in deal the too long railway pathway on which will be able to move the speed train. The Route is listed as G502 and has connected two high developed in industrial attitude of the city Guanichzhou and Pekin. The Distance between these two cities 2 298 km. The Train преодолеет this distance on velocities in 300 km whole for 8 hours. Usual composition spent on the whole way day, but also that if average velocity on route was 100 km. China constantly modernizes the railway and are chosen area with big passenger turn just. Basically this industrial centres. On given time in China already marketed too long pathway of the speed message.
Today in Ambience composition number 801 successfully went to the first way from station Peking aside Guanichzhou. Departure time 9 mornings. Simultaneously on one and the same route go three trains with difference at time. One came out of Pekin, the second came out of Hanchzhou, but the third came out of city Siani.
After started the new railway general extent speed pathways in China reached 9.3 thous. km, but after pair of the years on calculation she already will as minimum in two times long.