Cooperation between Russia and China is growing and growing!
Cooperation between China and Russia every day more and more. Recent negotiations between the two countries has led to the fact that on October 28, signed a package of agreements in the amount of half a billion dollars. The future of China and Russia is very good, everyone has something to offer in return for what is a neighbor. Russia has weapons, raw materials, and China has the money he collects the crumbs all over the World. Russian-Chinese economic forum gathered the most interested in
cooperation
with each side. The package of contracts that were signed this is actually very good! It is said that such Russian - Chinese mutual
cooperation
has a great future.
---
комментарии (0)

Обновить
---
China demonstrated a new spacecraft
In China, preparations for the Lunar mission are in full swing, new technologies are being developed, a rocket is being built, and the state is increasing funding. Recently, developers from China showed a new spacecraft to conquer the moon, it can also be used in the future and other longer flights to the nearest space. It is essentially a variant of the interplanetary spacecraft of the future....
Kazakhstan is actively increasing its oil supplies to China
China in the North is bordered by Russia, and Russia has a lot of oil, but for some reason, oil from its Northern neighbor, China does not buy in the volumes that are needed. China is trying to buy oil not in one country, but in several, so as not to depend economically and politically not to be dependent on any situations. Russian oil is not very good, it can only make bitumen for asphalt, and gasoline from it does not work much....
Line speediest train is started In China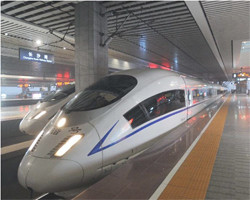 the December 26 in China have started in deal the too long railway pathway on which will be able to move the speed train. The Route is listed as G502 and has connected two high developed in industrial attitude of the city Guanichzhou and Pekin. The Distance between these two cities 2 298 km. The Train преодолеет this distance on velocities in 300 km whole for 8 hours. Usual composition spent on the whole way day, but also that if average velocity on route was 100 km. China constantly modernizes the railway and are chosen area with big passenger turn just. Basically this industrial centres. On given time in China already marketed too long pathway of the speed message.
Today in Ambience composition number 801 successfully went to the first way from station Peking aside Guanichzhou. Departure time 9 mornings. Simultaneously on one and the same route go three trains with difference at time. One came out of Pekin, the second came out of Hanchzhou, but the third came out of city Siani.
After started the new railway general extent speed pathways in China reached 9.3 thous. km, but after pair of the years on calculation she already will as minimum in two times long.