Chinese companies are engaged in the lighting on the streets of Simferopol
In the Crimea
project
will be implemented by the lighting of historic buildings along the streets. Chinese experts in this field have a lot of experience, from street lighting system largely overtaken Western counterparts. Are not expensive accessories, energy saving technology, and come out cheaper and more practical. In Crimea for consultation was attended by representatives of the company "Sankar-monics" (Huangshi). In order to try and it is possible to evaluate the work order in the future to make the right decision, the Chinese company gave its system for the
project
. On the day the system recharges the batteries, and on the evening of the show. The pilot
project
will start with the building of the administration of the Simferopol city Council. In addition on the streets as well put lanterns on poles, they will be made of energy-saving technologies. After a year of such equipment will work on the lighting of the building will calculate the cost and if it is profitable, the Chinese company will receive a fairly large order for the illumination of streets in the Crimea. If possible, the Chinese are willing to build with us in the Crimea plant lighting systems. The plant is 4 billion rubles, if the
project
is implemented, it and new jobs and products and contributions to the budget of the Republic.
---
Comments (0)

Update capcha
---
Chinese military set a huge gun on a warship
Probably many know that there are already skilled analogs of guns in which the shell accelerates not powder gases, and a magnetic field. Such a tool shoots further, the initial speed of the boob is several times higher, the firing range of such a tool is also noticeably higher. While none of the armies in the world has adopted a gun of this type. In Russia, all tests have not yet gone beyond the laboratory....
China successfully launched a second aircraft carrier, are testing a vehicle
The Chinese successfully master carrier fleet. First bought and modified air-carrying cruiser, and now a little further he delved into the topic and created a completely your warship with carrier-based aircraft. Here come the sea trials of the second aircraft carrier of China, at this time the ship is in port and ready to sail. Departure is scheduled for the second month of the new year....
Line speediest train is started In China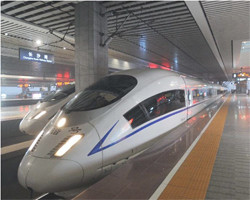 the December 26 in China have started in deal the too long railway pathway on which will be able to move the speed train. The Route is listed as G502 and has connected two high developed in industrial attitude of the city Guanichzhou and Pekin. The Distance between these two cities 2 298 km. The Train преодолеет this distance on velocities in 300 km whole for 8 hours. Usual composition spent on the whole way day, but also that if average velocity on route was 100 km. China constantly modernizes the railway and are chosen area with big passenger turn just. Basically this industrial centres. On given time in China already marketed too long pathway of the speed message.
Today in Ambience composition number 801 successfully went to the first way from station Peking aside Guanichzhou. Departure time 9 mornings. Simultaneously on one and the same route go three trains with difference at time. One came out of Pekin, the second came out of Hanchzhou, but the third came out of city Siani.
After started the new railway general extent speed pathways in China reached 9.3 thous. km, but after pair of the years on calculation she already will as minimum in two times long.