Talents are growing in rural areas of China
The Chinese hinterland is full of various strange crafts, if the era of high technology reigns in large cities, then in remote villages there is still a natural exchange. If you know how to do something well, then you will never be left without a piece of bread. Someone makes carved utensils out of wood, someone on the old technology weaves rice straw umbrellas, but there are those whose experience is truly unique and will not repeat, and in order for the world to learn about such crafts, and the masters may have new followers and was organized advertising photo exhibition of folk art residents of rural China. The exhibition was held with great interest in Beijing on August 10. At the exhibition you could see 135 photos of different directions, but all were designed in the same theme "folk art in the village." Many who visited this exhibition liked the theme of the village, harvesting, or any modern technology. He sat on a donkey and went to the field to plant rice, tired, ate rice cake and again to work with his head. And when you don`t have a main job, you weave yourself baskets of rice straw and earn some money, that`s what village life is in China. Such exhibitions are held regularly and it was the ninth exposition. It was held with the help of experts All the Chinese Association of workers of literature and art. Also, the Chinese society of photographers provided the most interesting photos in this topic. It turned out to be a very informative forum. The exhibition in Beijing will run until August 15.
---
комментарии (0)

Обновить
---
Line speediest train is started In China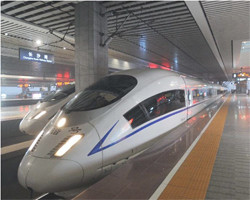 the December 26 in China have started in deal the too long railway pathway on which will be able to move the speed train. The Route is listed as G502 and has connected two high developed in industrial attitude of the city Guanichzhou and Pekin. The Distance between these two cities 2 298 km. The Train преодолеет this distance on velocities in 300 km whole for 8 hours. Usual composition spent on the whole way day, but also that if average velocity on route was 100 km. China constantly modernizes the railway and are chosen area with big passenger turn just. Basically this industrial centres. On given time in China already marketed too long pathway of the speed message.
Today in Ambience composition number 801 successfully went to the first way from station Peking aside Guanichzhou. Departure time 9 mornings. Simultaneously on one and the same route go three trains with difference at time. One came out of Pekin, the second came out of Hanchzhou, but the third came out of city Siani.
After started the new railway general extent speed pathways in China reached 9.3 thous. km, but after pair of the years on calculation she already will as minimum in two times long.