Not far from the capital of China have discovered ancient graves
The land of China holds many artifacts of past civilizations, not all can find, but what I found is a striking object values. Evaluating the findings that scientists have made is not far from Beijing, it appears that in these places there were settlements even earlier than the considered period. Deep in the earth, Chinese scientists found and crockery and toys from clay. Among the finds there are also copper products and even mirrors that era.
Scientists tend to think that these mirrors were made in the workshops of the era, even when from a centralized Chinese state and the question. Scientists suggest that the artefacts belong to the period about 200 years but our era. Near the settlement, scientists have found a cemetery which was excavated over 1,000 graves. All or most of the burials belong to the period of Han dynasty (25-220 year). The excavations are progressing and will continue for a long time, but now we can say that there is already 10 thousand artifacts from that era, they differ sharply from all other finds in the area. The fact is that everything that this settlement is found, all formed more than a century and is owned by several dynasties and eras. Settlement until it was in decline lasted about 2000 years. Seen one that lived here is not stupid people, they used mirrors and had the dishes and other household items. Children made toys out of clay and porcelain, in use to exchange values were used the money of local coinage.
Next another layer of soil found urban settlement times of the Han Empire. The settlement had a square shape and had a large defensive wall. The settlement was built in the shape of a square with a line 600 meters. Now scientists know that here lived people even informed of the sui and Tang dynasties, and is the period from 581 in 907 ad. The Han dynasty is even older.
The more we study the past, the better we understand our present. Findings from Tongzhou district, shed light on many previously unknown periods of history of ancient China. All it would have been to this day a mystery, if not become in Tongzhou district cost industrial area.
---
Comments (0)

Update capcha
---
Line speediest train is started In China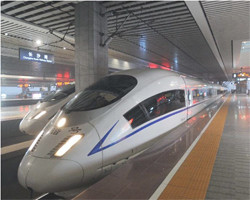 the December 26 in China have started in deal the too long railway pathway on which will be able to move the speed train. The Route is listed as G502 and has connected two high developed in industrial attitude of the city Guanichzhou and Pekin. The Distance between these two cities 2 298 km. The Train преодолеет this distance on velocities in 300 km whole for 8 hours. Usual composition spent on the whole way day, but also that if average velocity on route was 100 km. China constantly modernizes the railway and are chosen area with big passenger turn just. Basically this industrial centres. On given time in China already marketed too long pathway of the speed message.
Today in Ambience composition number 801 successfully went to the first way from station Peking aside Guanichzhou. Departure time 9 mornings. Simultaneously on one and the same route go three trains with difference at time. One came out of Pekin, the second came out of Hanchzhou, but the third came out of city Siani.
After started the new railway general extent speed pathways in China reached 9.3 thous. km, but after pair of the years on calculation she already will as minimum in two times long.