The new discoveries of terra-cotta warrior have made in China.
The new discoveries of terra-cotta warrior have made in China.
China much earth pyramids, under which buried integer common-rooms palace for afterlife former emperor. Much pyramids and hills are reconnoitred, but much simply covered with trees and simply science until is stady.
Though this so, but all discoveries period are done in China simply grandiose, so absolutely were recently discovered more hundreds clay warrior created in timeses of the emperor which was a first ruler of the country Cinya Shihuandi. Created the clay warrior for guard of the quietnesses buried by imperatora.
Excavations are guided to provinces Siani already long ago and is found plenty of interesting certificates былого bloom to dynasties Cini, except clay warrior have found and clay horses in full growing. There was there and big drawn all over shield from military chariot. The Discovery for scientist of the world simply sensation, such no else nor in one museum of the world. What confirm the scientist archeologists from China all discoveries in extraordinary excellent condition, without damages practically.
The First terra-cotta warrior was discovered in China in 1974. Then one chinese on its ground snout pit and was ruined in underground vault, where was hidden aiming clay army of the emperor.
---
комментарии (0)

Обновить
---
Line speediest train is started In China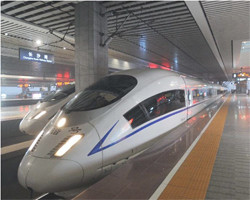 the December 26 in China have started in deal the too long railway pathway on which will be able to move the speed train. The Route is listed as G502 and has connected two high developed in industrial attitude of the city Guanichzhou and Pekin. The Distance between these two cities 2 298 km. The Train преодолеет this distance on velocities in 300 km whole for 8 hours. Usual composition spent on the whole way day, but also that if average velocity on route was 100 km. China constantly modernizes the railway and are chosen area with big passenger turn just. Basically this industrial centres. On given time in China already marketed too long pathway of the speed message.
Today in Ambience composition number 801 successfully went to the first way from station Peking aside Guanichzhou. Departure time 9 mornings. Simultaneously on one and the same route go three trains with difference at time. One came out of Pekin, the second came out of Hanchzhou, but the third came out of city Siani.
After started the new railway general extent speed pathways in China reached 9.3 thous. km, but after pair of the years on calculation she already will as minimum in two times long.