The Strong rainstorm has washed off the part Chinese Wall.
The Strong rainstorm has washed off the part Chinese Wall. The Great Chinese Wall enormous monument under opened by sky. The Monument visit tourist which brings in treasury rather commanding money. So the authorities of the country intently keep a check on condition of the building and on measure of the necessities its remontiruyut.
Basically decays the building by nature and in most rain. The Last weeks on North of China go the constant the most rain and flows of water in provinces Hebey simply have washed off approximately 36 metres steny.
All see happened by reason of bad condition of the building which have not yet provided in proper type. What confirm the authorities this area wall long ago requires the repair. Though a part wall decayed, but the main all that none of tourist did not damage as a result kataklizma.
See blame that that was crushed so important history building can be an abudance of the underground mines on mining useful fossilized in close proximity buildings. Many mines legal, but many and work with breaches of all rates and rules vyrabotki.
What confirm the scientist though and repair the wall that there that there and money select is corrected, but wall all decays and decays. If judge on condition wall, that 20% in normal condition but all rest in emergency.
---
комментарии (0)

Обновить
---
Line speediest train is started In China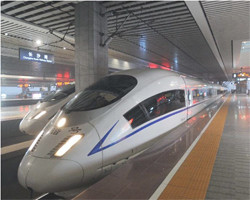 the December 26 in China have started in deal the too long railway pathway on which will be able to move the speed train. The Route is listed as G502 and has connected two high developed in industrial attitude of the city Guanichzhou and Pekin. The Distance between these two cities 2 298 km. The Train преодолеет this distance on velocities in 300 km whole for 8 hours. Usual composition spent on the whole way day, but also that if average velocity on route was 100 km. China constantly modernizes the railway and are chosen area with big passenger turn just. Basically this industrial centres. On given time in China already marketed too long pathway of the speed message.
Today in Ambience composition number 801 successfully went to the first way from station Peking aside Guanichzhou. Departure time 9 mornings. Simultaneously on one and the same route go three trains with difference at time. One came out of Pekin, the second came out of Hanchzhou, but the third came out of city Siani.
After started the new railway general extent speed pathways in China reached 9.3 thous. km, but after pair of the years on calculation she already will as minimum in two times long.