In The South Of China Avian Influenza
In one of the southern provinces of China was an outbreak of avian creep. The Chinese authorities to promptly take measures to contain the disease. For the first couple of months of 2015 has already been identified 52 cases terrible virus H7N9. News shared Agency "chzhungo daily". Given the fact that China will soon celebrate the New year, it clearly can contribute to the spread of in
fection
. New year on the Chinese calendar, is celebrated active, eat a lot of poultry. Under this celebration, many manufacturers birds just trying to grow as much as possible game. Special Supervisory authorities Guangdong warned all poultry producers, it is important to keep track of everything with a renewed zeal and if the identified bird deaths, to identify foci of in
fection
and as quickly as possible to contain them. Modified stamp of the H7N9 virus was first seen in China in March 2013, the bearer was a man. Scientists identify cause of the in
fection
and still can-t exactly say how this stamp is distributed? If the virus mutated, it is possible that he may be transmitted through airborne droplets, which may result in big problems!
---
комментарии (0)

Обновить
---
Chinese scientists use mosquitoes for breeding virus vaccine
Chinese scientists have found a surprising way to reduce the number of mosquitoes and thereby to combat the spread of various viral infections. Experiments performed by scientists from the lab in Guangzhou. In the laboratory, millions of mosquitoes, which were causing virus, which does not allow mosquitoes to breed. Infect the larvae of the males of the special parasite....
In The South Of China Avian Influenza
In one of the southern provinces of China was an outbreak of avian creep. The Chinese authorities to promptly take measures to contain the disease. For the first couple of months of 2015 has already been identified 52 cases terrible virus H7N9. News shared Agency "chzhungo daily". Given the fact that China will soon celebrate the New year, it clearly can contribute to the spread of infection....
Line speediest train is started In China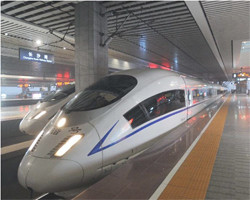 the December 26 in China have started in deal the too long railway pathway on which will be able to move the speed train. The Route is listed as G502 and has connected two high developed in industrial attitude of the city Guanichzhou and Pekin. The Distance between these two cities 2 298 km. The Train преодолеет this distance on velocities in 300 km whole for 8 hours. Usual composition spent on the whole way day, but also that if average velocity on route was 100 km. China constantly modernizes the railway and are chosen area with big passenger turn just. Basically this industrial centres. On given time in China already marketed too long pathway of the speed message.
Today in Ambience composition number 801 successfully went to the first way from station Peking aside Guanichzhou. Departure time 9 mornings. Simultaneously on one and the same route go three trains with difference at time. One came out of Pekin, the second came out of Hanchzhou, but the third came out of city Siani.
After started the new railway general extent speed pathways in China reached 9.3 thous. km, but after pair of the years on calculation she already will as minimum in two times long.