This occurs when you do not pay attention to the taboos in China
In the Chinese city of Jilin has long warned residents that in the near future in their yard construction work will start and what you need the machine to put in another place. Someone really put the car where it should be, and who understood the instruction completely different. The driver of the car Audi A6 is still parked my car there where not
supposed
to and builders regardless of the car started, the result is what came out. Look at the photo.
---
комментарии (0)

Обновить
---
The Chinese threw the luck coin in a turbine aircraft!
In China believe in the existence of spirits and magic and that faith is absolute. Recently, employees of one of the airports in China during the landing on the aircraft noticed a woman throwing coins to the turbine of an airliner. An elderly woman does not want to the airliner after takeoff suffered accident, she was just looking for luck, tossing a coin....
In China launched a new aircraft carrier
The aircraft carrier was launched in a solemn ceremony, the ship dressed up with ribbons like a Christmas tree. If the first aircraft carrier China built on the basis of the cruiser that was purchased in Ukraine, then a second aircraft carrier Chinese industry has mastered itself in record time....
Line speediest train is started In China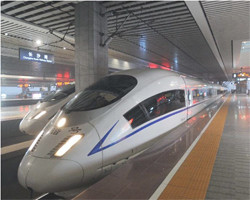 the December 26 in China have started in deal the too long railway pathway on which will be able to move the speed train. The Route is listed as G502 and has connected two high developed in industrial attitude of the city Guanichzhou and Pekin. The Distance between these two cities 2 298 km. The Train преодолеет this distance on velocities in 300 km whole for 8 hours. Usual composition spent on the whole way day, but also that if average velocity on route was 100 km. China constantly modernizes the railway and are chosen area with big passenger turn just. Basically this industrial centres. On given time in China already marketed too long pathway of the speed message.
Today in Ambience composition number 801 successfully went to the first way from station Peking aside Guanichzhou. Departure time 9 mornings. Simultaneously on one and the same route go three trains with difference at time. One came out of Pekin, the second came out of Hanchzhou, but the third came out of city Siani.
After started the new railway general extent speed pathways in China reached 9.3 thous. km, but after pair of the years on calculation she already will as minimum in two times long.