Several people fell to the sidewalk
Not only in Crimea or anywhere else wastewater tempted the soil under the road surface, which later becomes very dangerous for
everyone
who walks or moves in such an emergency the road. In China, a similar situation occurred, where several people stood on the sidewalk and at one point was in a small pit, because the ground beneath the pavement has failed. Well, the depth of the formed trenches was not so great, and
everyone
was safe, but scared. This event occurred on 22 August in Heilongjiang province. Probably no one would have never known about the incident, all the victims got themselves out of the ditch. But on happiness or on the occasion where we worked beside a surveillance camera, and she and all photographed in great detail. Two men were in the midst of collapse, and the woman on the edge and she tried to grab the edge of the cliff, so as not to fall further. Only when he realized that under his feet the hard ground, we stopped to grab the edge of the pit.
---
комментарии (0)

Обновить
---
You can be happy for China, the country`s economy has ceased to grow
If the economy of Russia, which has plenty of oil and gas, grows by only 1% per year and this is considered a good achievement in the government, then China`s GDP growth in 2018 reached 6.6% and this is the minimum figure since 1990. The economy has developed the tasks and now in order for growth to continue to need to continue to capture the markets of other countries with cheap goods, otherwise it simply will not work....
China is constantly increasing imports of goods and services
China as it turns out can not do everything, but only that does not require a lot of mind or something that is easy to take from competitors and then at home to repeat. When it comes to very complex equipment, China considers it profitable to just buy it, because to do something like that in China can not yet, and there is a possibility that neither when they can not....
Line speediest train is started In China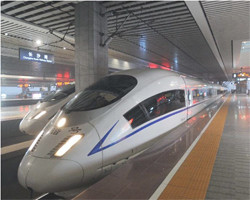 the December 26 in China have started in deal the too long railway pathway on which will be able to move the speed train. The Route is listed as G502 and has connected two high developed in industrial attitude of the city Guanichzhou and Pekin. The Distance between these two cities 2 298 km. The Train преодолеет this distance on velocities in 300 km whole for 8 hours. Usual composition spent on the whole way day, but also that if average velocity on route was 100 km. China constantly modernizes the railway and are chosen area with big passenger turn just. Basically this industrial centres. On given time in China already marketed too long pathway of the speed message.
Today in Ambience composition number 801 successfully went to the first way from station Peking aside Guanichzhou. Departure time 9 mornings. Simultaneously on one and the same route go three trains with difference at time. One came out of Pekin, the second came out of Hanchzhou, but the third came out of city Siani.
After started the new railway general extent speed pathways in China reached 9.3 thous. km, but after pair of the years on calculation she already will as minimum in two times long.