Chinese construction trains in the skills of a gymnast
It`s hard to get excited about love, if you from morning till evening in the workplace, but this is not always true. Chinese Shi Shangwei began to work on a construction site 16 years, always on the job and in free time games on the computer. The young Chinese man liked to pass the levels and jump in the games by pressing the keyboard keys, but eventually he wanted to learn how to jump so quickly, like a character in a computer game "Prince of Persia".
To do and exercise is of course good, but when and where to do if you have a 10-hour day and you`re tired all the construction?
A Chinese laborer works in Fujian province, it helps to build temples, on building it for seven years and expertly mastered the juggling and gymnastic exercises. Such a high level he managed to achieve thanks to the Internet and received from the network lessons in gymnastics.
So would no one learned sports guy from China, if not posted videos of his workouts. His brother takes him out of training on video and put in a network for viewing. At this time, the videos already have over a million views. Although Shi Shangwei not athletic, he`s only good worker but also know how strong and tough athlete who not only has the entire day to carry bricks, but also in the break is engaged on the bar directly in the workplace. Under normal conditions, these classes even in the workplace banned, but in the case of Shi Shangwei all the way, he was allowed and because of this training, he became a star of the Internet. See the video below.
---
комментарии (0)

Обновить
---
Line speediest train is started In China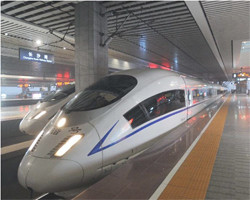 the December 26 in China have started in deal the too long railway pathway on which will be able to move the speed train. The Route is listed as G502 and has connected two high developed in industrial attitude of the city Guanichzhou and Pekin. The Distance between these two cities 2 298 km. The Train преодолеет this distance on velocities in 300 km whole for 8 hours. Usual composition spent on the whole way day, but also that if average velocity on route was 100 km. China constantly modernizes the railway and are chosen area with big passenger turn just. Basically this industrial centres. On given time in China already marketed too long pathway of the speed message.
Today in Ambience composition number 801 successfully went to the first way from station Peking aside Guanichzhou. Departure time 9 mornings. Simultaneously on one and the same route go three trains with difference at time. One came out of Pekin, the second came out of Hanchzhou, but the third came out of city Siani.
After started the new railway general extent speed pathways in China reached 9.3 thous. km, but after pair of the years on calculation she already will as minimum in two times long.