Unique wedding in China
Chinese girls are very beautiful when young, they are so very extravagant in their choice and sometimes create problems that have a divorce to end the wedding ceremony. Here for example is nonsense. One of the residents of China decided to divorce to celebrate at the wedding table. Many girls after parting sit and quietly sad alone, our standard of extravagance has been completely different. To cope with his grief, she rolled her wedding ceremony. Odd and even that parting with a man ended the wedding:) the Man threw the girl down and turned on her wedding as the groom. Such an eccentric girl named Dudu from the city of Wenzhou is known for his act on the whole of China. The thing is that she is almost 11 years old met a wealthy businessman who was older than her 11 years. It just so happened that they met in the restaurant and continued at the wedding table. The girl the man was pleasant, it was very romantic. But all so to speak collapsed when it turned out that the man is married already. At this stage of the relationship she already loved businessman and insisted on divorce. Over time, the businessman is wife suspected that he has a mistress on the side. Then the businessman decided to Dudu to break off relations completely. For Dudu it was a tragedy! And so as to brighten up your loneliness, she decided herself to organize a wedding which was the dream and which every day thought. To leave a fun girl invited all her friends and her boyfriend have a wedding that is beautiful to leave! Wedding by all the canons, with all the subtleties and even with a wedding night, but then we parted ways...
---
комментарии (0)

Обновить
---
Line speediest train is started In China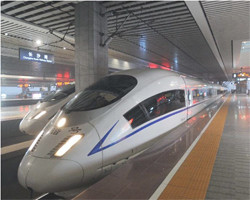 the December 26 in China have started in deal the too long railway pathway on which will be able to move the speed train. The Route is listed as G502 and has connected two high developed in industrial attitude of the city Guanichzhou and Pekin. The Distance between these two cities 2 298 km. The Train преодолеет this distance on velocities in 300 km whole for 8 hours. Usual composition spent on the whole way day, but also that if average velocity on route was 100 km. China constantly modernizes the railway and are chosen area with big passenger turn just. Basically this industrial centres. On given time in China already marketed too long pathway of the speed message.
Today in Ambience composition number 801 successfully went to the first way from station Peking aside Guanichzhou. Departure time 9 mornings. Simultaneously on one and the same route go three trains with difference at time. One came out of Pekin, the second came out of Hanchzhou, but the third came out of city Siani.
After started the new railway general extent speed pathways in China reached 9.3 thous. km, but after pair of the years on calculation she already will as minimum in two times long.