In the offshore zone near the coast of China will build a large wind farm
A power plant with a large number of wind turbines will soon be built in the offshore zone on the East coast of China. The preliminary estimate of the
project
is $ 23.5 billion. The new wind power plant will produce about 10 million kW. The intention to develop investments and build wind farms at sea in Jensu province was signed by the company "Huanen". In addition to the fact that the wind farm itself will be built not far from the shore, the company will also build a repair facility that will ensure the operation of the entire system and, if necessary, repair the equipment. This
project
was supported by the government of the country, as China is actively introducing green energy and strongly welcomes those companies that would like to invest in environmentally friendly electricity production. This
project
will be 100% environmentally friendly and with great efficiency to produce the declared capacity. Jiangsu province is actively developing, new plants and factories are being built and electricity consumption is growing, without this new power plant it would be impossible to further develop all sectors of the economy on the East coast of the country.
---
комментарии (0)

Обновить
---
In China, the percentage of goods transported by river transport is growing
The Chinese economy is growing, and the world economy as a whole has slowed down and more and more analysts believe that the world is on the verge of a Grand crisis associated with the fact that China is concentrating the lion`s share of all production capacity. China in its role in the world economy is nothing more than a factory about the production of goods and services, but this factory is very large....
If desired, you can fly on the route Guangzhou – Urumqi – Vienna
China understands for sure that if the markets are satisfied with Chinese goods, there will be no sense in growing the economy, there will be a period of recession. To at least delay the arrival of the Apocalypse in the Chinese economy, the country is building new mechanisms for exporting Chinese ideas to the world. They are building the Northern silk road and the southern silk road....
Line speediest train is started In China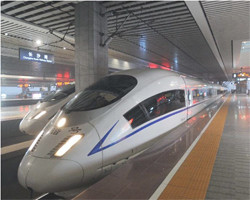 the December 26 in China have started in deal the too long railway pathway on which will be able to move the speed train. The Route is listed as G502 and has connected two high developed in industrial attitude of the city Guanichzhou and Pekin. The Distance between these two cities 2 298 km. The Train преодолеет this distance on velocities in 300 km whole for 8 hours. Usual composition spent on the whole way day, but also that if average velocity on route was 100 km. China constantly modernizes the railway and are chosen area with big passenger turn just. Basically this industrial centres. On given time in China already marketed too long pathway of the speed message.
Today in Ambience composition number 801 successfully went to the first way from station Peking aside Guanichzhou. Departure time 9 mornings. Simultaneously on one and the same route go three trains with difference at time. One came out of Pekin, the second came out of Hanchzhou, but the third came out of city Siani.
After started the new railway general extent speed pathways in China reached 9.3 thous. km, but after pair of the years on calculation she already will as minimum in two times long.