Two Chinese disabled person decided to put the whole neighborhood with tree seedlings
Ecology in China is just terrible, the economy grows rapidly, the absorption of resources there is a Grand pace. When something along the deep river in China were extensive forests. Then all is lost and you only found shrubs and steppe, but in recent decades by several miners everything changes radically. Already
planted
12 billion trees, they summed up special channels for irrigation. All this made two friends, one blind, the other without hands. They are each other is complement, of the pair has formed a unique group of conservationists. The last 13 years they are engaged in planting trees and watering. The morning begins just normal, haixia Jia grabs the belt Venice, and so go to their allocated plot of land on which grow the
planted
trees. Persons with disabilities, though limited in movement, but mostly healthy people, they can take many miles and with almost no feeling of fatigue. When they reached the workplace, the Chinese begin work. Armless commands, the blind man climbs the tree and cuts cuttings for planting in the pit. Then dig holes and already as usual. In China, many people with disabilities, but not so much for such hard that not only earn money but also make nature cleaner perevospityvaet on the way to a higher spiritual level.
---
комментарии (0)

Обновить
---
In China are very fond of bitter chili pepper
Someone on morning runs around the stadium to get a good mood, someone can`t start a morning without a Cup of coffee, but there are those who invigorates himself by eating early in the morning a couple of perchenok bitter chili. Chinese Eunji Lee in the 44 years is quite an unusual man, he cleans the teeth with a special paste with pepper. Lives this wonderful man in Henan province....
Two Chinese disabled person decided to put the whole neighborhood with tree seedlings
Ecology in China is just terrible, the economy grows rapidly, the absorption of resources there is a Grand pace. When something along the deep river in China were extensive forests. Then all is lost and you only found shrubs and steppe, but in recent decades by several miners everything changes radically. Already planted 12 billion trees, they summed up special channels for irrigation....
Line speediest train is started In China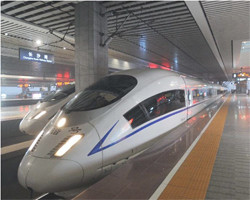 the December 26 in China have started in deal the too long railway pathway on which will be able to move the speed train. The Route is listed as G502 and has connected two high developed in industrial attitude of the city Guanichzhou and Pekin. The Distance between these two cities 2 298 km. The Train преодолеет this distance on velocities in 300 km whole for 8 hours. Usual composition spent on the whole way day, but also that if average velocity on route was 100 km. China constantly modernizes the railway and are chosen area with big passenger turn just. Basically this industrial centres. On given time in China already marketed too long pathway of the speed message.
Today in Ambience composition number 801 successfully went to the first way from station Peking aside Guanichzhou. Departure time 9 mornings. Simultaneously on one and the same route go three trains with difference at time. One came out of Pekin, the second came out of Hanchzhou, but the third came out of city Siani.
After started the new railway general extent speed pathways in China reached 9.3 thous. km, but after pair of the years on calculation she already will as minimum in two times long.