China, o people, o mores!
China may be such! Angry
parents
for several years he locked his daughter in the barn and all because they didn-t like her boyfriend. The event took place in a rural village, Jingang, Hubei province. The network quickly shattered pictures of a girl who in terrible conditions he lived for more than 6 years. The pictures have been shared with the world local resident Chow Jen. He then told the world such a sad story. Girl Zhang Qi in 2009 were locked in the barn, all because she wanted to throw their
parents
and run away with her boyfriend. Parents thought that my daughter-s head that is not so and decided to lock in the barn for six long years. At this time the police are actively investigating a criminal case and looking for the guilty. The man who showed online photo Zhang Qi said that all this time and the police and local officials were aware of such confinement. Parents were at Zhang Qi quite important officials and for this reason no one dared to give the matter of publicity. What is most interesting, when the World learned about this situation with Zhang Qi, its pictures of Chinese Internet just disappeared. What do you think about Chinese police hard to say! They refuse comment!
---
комментарии (0)

Обновить
---
In China, thoroughly engaged in family education
Our cultural values come from the family and if there is no cultural background in the family, then where to look for it. Tourists from China or where do not like, they are terribly disorganized behave everywhere violate the laws. It seems that they are generally decent behavior in society, no one taught. The world amicably says no to Chinese unorganized tourism, those tourists who are not instilled with cultural values....
China has been conducting genetic experiments on human embryos
For many years, China secretly conducted genetic experiments on humans and never confirmed its participation in such programs. But recently something obviously serious happened, China finally boasted of its achievements in the field of genetic modifications in the human embryo. Even in the country she was born a couple of genetically modified Chinese, the twins Lulu and Nana, they now have lifelong immunity to HIV....
Line speediest train is started In China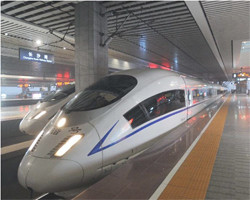 the December 26 in China have started in deal the too long railway pathway on which will be able to move the speed train. The Route is listed as G502 and has connected two high developed in industrial attitude of the city Guanichzhou and Pekin. The Distance between these two cities 2 298 km. The Train преодолеет this distance on velocities in 300 km whole for 8 hours. Usual composition spent on the whole way day, but also that if average velocity on route was 100 km. China constantly modernizes the railway and are chosen area with big passenger turn just. Basically this industrial centres. On given time in China already marketed too long pathway of the speed message.
Today in Ambience composition number 801 successfully went to the first way from station Peking aside Guanichzhou. Departure time 9 mornings. Simultaneously on one and the same route go three trains with difference at time. One came out of Pekin, the second came out of Hanchzhou, but the third came out of city Siani.
After started the new railway general extent speed pathways in China reached 9.3 thous. km, but after pair of the years on calculation she already will as minimum in two times long.