China has blocked access to Pinterest
China is not the first year leads a policy of isolation, locked, not all, but most popular Western social community. Facebook and Twitter in China has long been in disgrace. The fact is that the Chinese officials would like to control the Internet space and if you`re using Chinese social networking sites, as you would always under supervision, but if you are not at home, then you need to get to stay at home and communicate with the same sterile people as you do. The Chinese government is afraid of revolt and enlightenment of the people, that according to the controlled network Weibo, Meipai and Nice.
Many simply wonder how it happened that until now the social community Pinterest in China was not blocked? Probably all because of the radical advertising platform just yet, then communicate with the same interests and find what I would like to find for their own social growth.
It was not until recently, according to TechCrunch is now on Pinterest all the Chinese people will not be able to get. Access this social network is blocked, and if so, then it is not a mistake but a decision of the Chinese authorities.
If you can`t do without Pinterest, then look for a replacement in the Chinese manner, with great probability, that something like this in the vastness of the Chinese segment of the world wide web is now up and running.
---
комментарии (0)

Обновить
---
Line speediest train is started In China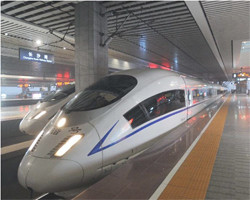 the December 26 in China have started in deal the too long railway pathway on which will be able to move the speed train. The Route is listed as G502 and has connected two high developed in industrial attitude of the city Guanichzhou and Pekin. The Distance between these two cities 2 298 km. The Train преодолеет this distance on velocities in 300 km whole for 8 hours. Usual composition spent on the whole way day, but also that if average velocity on route was 100 km. China constantly modernizes the railway and are chosen area with big passenger turn just. Basically this industrial centres. On given time in China already marketed too long pathway of the speed message.
Today in Ambience composition number 801 successfully went to the first way from station Peking aside Guanichzhou. Departure time 9 mornings. Simultaneously on one and the same route go three trains with difference at time. One came out of Pekin, the second came out of Hanchzhou, but the third came out of city Siani.
After started the new railway general extent speed pathways in China reached 9.3 thous. km, but after pair of the years on calculation she already will as minimum in two times long.