The City Tanshan - a future base robot of China!
The City Tanshan - a future base robot of China!
?? north to provinces Hebey in next to time will is built modern infrastructure for production robot. Enterprises given directions come up for this part China by the end of 2015 and will be able to release annually product on amount more than 3 Mlrd dollarov.
Will Begin the project not on nonentities, in provinces
already
exist the production powers, which will be able to release under full loading the product on 2 mlrd uan per annum, but this obviously little. After in 2009 in China was created fest robot of the flexing the engineering direction, China actively develops the robotized direction in science and industry. The First robot China has done for conduct of the search work on emergency area in mine. Five years were back released only one robot, but in 2012 is
already
released six different mechanical systems for working in non-standard ambience.
Apropos there is even numeral which more obviously speaks of that that China in a short time will have enough not small potential in the field of robotized systems, therefore what spends on this not small on world yardstick money, for previous year $136, increase in contrast with 2010 order 21%, so at least once becomes firmly established in report become management China. If count the percent from the general wasting the country, that this order 1.83%.
Last year, the China has given the services and goods on amount of the order $7,4 trln dollars, in contrast with 2010 numeral on 10% more. Chinese industry last three years certain adds on 10% annually in its development from past of the factors.
---
комментарии (0)

Обновить
---
Another car manufacturer company comes to the European market
Russia is closer to China and it is in the vast expanses of a large country that Chinese companies are trying to turn around in the first place. A new car brand from China is being promoted to the Russian market. This brand, even in China, few people know this car manufacturer Zedriv. Apparently the owners of the company Zedriv a lot of money and a great desire to invest them profitably in the automotive sector....
In the Northern regions of China a lot of shale oil
Scientists from China confidently said that in the North of the country there are places where a lot of shale oil. Places with underlying shale rocks were found in the cores near the city of Tianjin in Northern China. Scientists have estimated the reserves of shale oil and they have been tremendous. The first two wells that were drilled at the Dagan field, for 260 days, emit 30 cubic meters of crude oil per day....
Line speediest train is started In China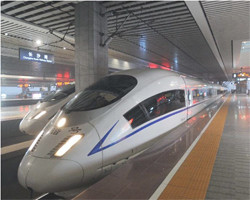 the December 26 in China have started in deal the too long railway pathway on which will be able to move the speed train. The Route is listed as G502 and has connected two high developed in industrial attitude of the city Guanichzhou and Pekin. The Distance between these two cities 2 298 km. The Train преодолеет this distance on velocities in 300 km whole for 8 hours. Usual composition spent on the whole way day, but also that if average velocity on route was 100 km. China constantly modernizes the railway and are chosen area with big passenger turn just. Basically this industrial centres. On given time in China already marketed too long pathway of the speed message.
Today in Ambience composition number 801 successfully went to the first way from station Peking aside Guanichzhou. Departure time 9 mornings. Simultaneously on one and the same route go three trains with difference at time. One came out of Pekin, the second came out of Hanchzhou, but the third came out of city Siani.
After started the new railway general extent speed pathways in China reached 9.3 thous. km, but after pair of the years on calculation she already will as minimum in two times long.