China will build air express in Ukraine
China will build air
express
in Ukraine In the near future new type of the train "Air
express
" will appear in Ukraine. The Preliminary co-ordinations on given direction already passed. In the near future between air winch of the Kiev and central Train Station will build the speed route, on this direction will ply chinese "Air
express
"
Building work will last as minimum pair years, but beside inhabitants as a result and guests of the capital of the Ukraine will appear the additional more suitable type transporta.
Begin financing a construction after Ukraine will pay the commission collection. Build such railway thought as far back as 2011, but for a variety of reasons construction site was carried first on the end summer 2011, but afterwards and on autumn. But has approached 2012 and facilities again comes short on such grandiose project.
---
Comments (0)

Update capcha
---
On the Eve of the New year holiday in China began a flower boom
Flowers is a sign of good tone, a sign of good mood, if anyone wants to Express their gratitude to you, as at least he will give a floral bouquet. The Chinese are not far from this subject and quite predictable on the eve of the new year`s eve on the Eastern calendar. The Chinese are now storming the flower markets in search of cheaper bouquets in order to create a spring mood in your home on new year`s eve....
China is stepping up censorship on the Internet
Live blogger on the Internet if it doesn`t work for someone else? He writes something of their own, expresses their opinion and earn money by displaying related ads. What the Internet will now earn Chinese bloggers, even if they artists to discuss banned:) Chinese bloggers are sounding the alarm, everyone who works in show business as well Express my concern about the current situation in the field of censorship in the Internet....
Line speediest train is started In China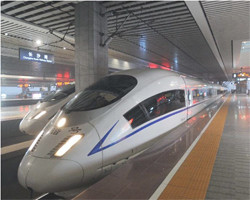 the December 26 in China have started in deal the too long railway pathway on which will be able to move the speed train. The Route is listed as G502 and has connected two high developed in industrial attitude of the city Guanichzhou and Pekin. The Distance between these two cities 2 298 km. The Train преодолеет this distance on velocities in 300 km whole for 8 hours. Usual composition spent on the whole way day, but also that if average velocity on route was 100 km. China constantly modernizes the railway and are chosen area with big passenger turn just. Basically this industrial centres. On given time in China already marketed too long pathway of the speed message.
Today in Ambience composition number 801 successfully went to the first way from station Peking aside Guanichzhou. Departure time 9 mornings. Simultaneously on one and the same route go three trains with difference at time. One came out of Pekin, the second came out of Hanchzhou, but the third came out of city Siani.
After started the new railway general extent speed pathways in China reached 9.3 thous. km, but after pair of the years on calculation she already will as minimum in two times long.