The largest solar power plant being built in China
China all trying to be first! All the best and everything made by human hands, should be done in China, this is the policy of the leaders of the
country
. Not long ago there was a news that China is going to build the largest solar power plant Worldwide. Basically the system is adapted so as to be used for recharging the batteries. In China, more and more are used electrically the cars on the road and it was under this program and it was decided to build such a Grand structure which can provide 80 cars own electrical potential. The construction of similar facilities would cost the
country
the sum of $2,36 million to Build will be fast and at the end of the year the object was put into operation. The station will have 30 slots for charging cars, while each car will be charged no more than 40 minutes. Will and system, which will be charged with lower current battery, it will take more time, but this type of charging saves battery life, which is very important. It was decided to build such a structure not on an empty place. The growth of electric cars in the
country
, two of the company Shougang Corporation and Tellus Power decided this demand in a sense to satisfy and earn money. By the way, there is some deviation from the rules and regulations! This charging station can charge your batteries not all cars, all because there is no uniform standard in the production of batteries. All battery models Chinese production will be maintained, and certain foreign counterparts, too, can be recharged. There is no
country
that would invest more in solar energy than China. China has everything needed to become a leader in the production of electricity using energy from the Sun.
---
Comments (0)

Update capcha
---
China has adopted a program to stimulate the production of electric cars
China is a big country, there are a lot of cars on the roads, all of them work on traditional fuel with little exception, everything would probably continue to develop, if not for the desire of the government to reduce environmental pollution. After all, now, if you do not develop an alternative transport system, in the future in China on the streets without a gas mask does not go out....
China tightens regulation of streaming
If someone thinks that China is a free democracy, that it is a free society, he is clearly mistaken. China is a state with a rigid vertical of power. We can only say that the Chinese party considers it necessary, everything is subordinated to the ruling line of the party. If someone says something, does not, it is controlled and directed in the right direction, methods of influence enough....
Line speediest train is started In China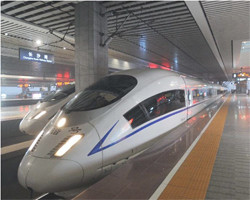 the December 26 in China have started in deal the too long railway pathway on which will be able to move the speed train. The Route is listed as G502 and has connected two high developed in industrial attitude of the city Guanichzhou and Pekin. The Distance between these two cities 2 298 km. The Train преодолеет this distance on velocities in 300 km whole for 8 hours. Usual composition spent on the whole way day, but also that if average velocity on route was 100 km. China constantly modernizes the railway and are chosen area with big passenger turn just. Basically this industrial centres. On given time in China already marketed too long pathway of the speed message.
Today in Ambience composition number 801 successfully went to the first way from station Peking aside Guanichzhou. Departure time 9 mornings. Simultaneously on one and the same route go three trains with difference at time. One came out of Pekin, the second came out of Hanchzhou, but the third came out of city Siani.
After started the new railway general extent speed pathways in China reached 9.3 thous. km, but after pair of the years on calculation she already will as minimum in two times long.