China will conduct genetic experiment on the International space station
NASA cannot carry out joint research projects with Chinese scientists. This is confirmed by act of 2011, which prohibits any activity between the two countries. However, the law does not deal with private American companies who can work with China in Space, and according to the Houston Chronicle, the company
NanoRacks
is going to use that hole in the legislation to implement the first Chinese experiment on the International space station.
NanoRacks
is located in Houston and is engaged primarily in the fact that with the help of third parties to upload their capacity to conduct experiments on the ISS. In accordance with the signed agreement, scientists from the Institute of technology in Beijing will pay "
NanoRacks
" $ 200,000, for delivery to the ISS of the material and for the opportunity to perform genetic experiments on Board the station. Shipping will SpaceX rocket, after which the results will be delivered on the Ground. The experiment will test the effect of space radiation on DNA. Even already have a blessing from NASA, but there is little chance that Congress may try to block every effort. Can these private offerings and to develop in the future? If so then they can become the basis for a new international cooperation in Space? When there is money and there is mutual interest, political differences, looks like no one is interested in. This is called progress in relations between the two countries.
---
комментарии (0)

Обновить
---
China will conduct genetic experiment on the International space station
NASA cannot carry out joint research projects with Chinese scientists. This is confirmed by act of 2011, which prohibits any activity between the two countries. However, the law does not deal with private American companies who can work with China in Space, and according to the Houston Chronicle, the company NanoRacks is going to use that hole in the legislation to implement the first Chinese experiment on the International space station....
Line speediest train is started In China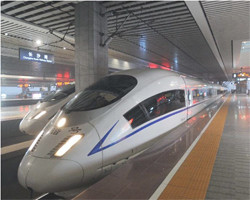 the December 26 in China have started in deal the too long railway pathway on which will be able to move the speed train. The Route is listed as G502 and has connected two high developed in industrial attitude of the city Guanichzhou and Pekin. The Distance between these two cities 2 298 km. The Train преодолеет this distance on velocities in 300 km whole for 8 hours. Usual composition spent on the whole way day, but also that if average velocity on route was 100 km. China constantly modernizes the railway and are chosen area with big passenger turn just. Basically this industrial centres. On given time in China already marketed too long pathway of the speed message.
Today in Ambience composition number 801 successfully went to the first way from station Peking aside Guanichzhou. Departure time 9 mornings. Simultaneously on one and the same route go three trains with difference at time. One came out of Pekin, the second came out of Hanchzhou, but the third came out of city Siani.
After started the new railway general extent speed pathways in China reached 9.3 thous. km, but after pair of the years on calculation she already will as minimum in two times long.