Graves 1800-year have found in China
In district Shangao most recently scientist archeologists have found the interesting discovery. In east part of provinces Czyansi they have found grave past a dynasty, graves are dated 1800 year before. About such opening world has heard after message of one of the deputies of the leader Czyansiysk institute of the antiquities and ancient monument.
That have found the scientist from China interesting certificate about existence of the settlings to dynasties East Khan (24-220 years) in this part China. It Is Found seven graves of this period, which absolutely were accidentally discovered local workman, they worked at mountain declivity and on cast of the die have found so interesting discoveries. The Opening is made about month back, where that in the first number March 2012 years.
After certain time responsible persons institute of the antiquities to provinces Czyansi have set to work with specialist local museum cultures and histories. It Is Found plenty of interesting, all the manner of home utensil and even golden embellishment and qualitative porcelain, which price no. The Grave complex was situated in determined to sequences and probability that that these graves belongs to the relative very great. Possible this household burial what that important chinese important person of period to dynasties East Khan (24-220 years). The A great deal is made clear see in subject of the burials and tradition of the household burial of that timeses considering given opening.
China archeologists have excavated beautifully ed in provinces Yuninani ancient settling, on south-west of the country.
---
Line speediest train is started In China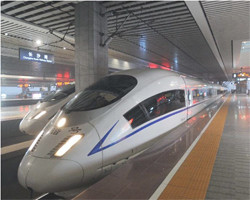 the December 26 in China have started in deal the too long railway pathway on which will be able to move the speed train. The Route is listed as G502 and has connected two high developed in industrial attitude of the city Guanichzhou and Pekin. The Distance between these two cities 2 298 km. The Train преодолеет this distance on velocities in 300 km whole for 8 hours. Usual composition spent on the whole way day, but also that if average velocity on route was 100 km. China constantly modernizes the railway and are chosen area with big passenger turn just. Basically this industrial centres. On given time in China already marketed too long pathway of the speed message.
Today in Ambience composition number 801 successfully went to the first way from station Peking aside Guanichzhou. Departure time 9 mornings. Simultaneously on one and the same route go three trains with difference at time. One came out of Pekin, the second came out of Hanchzhou, but the third came out of city Siani.
After started the new railway general extent speed pathways in China reached 9.3 thous. km, but after pair of the years on calculation she already will as minimum in two times long.