Aluminum exhibition ALUMINIUM CHINA successfully passed In China
The Exhibition ALUMINIUM CHINA in provinces Shanghai this grandiose action in sphere of the economy of the country. Demand is tested On such sort action for different sort aluminum and as derivative growing or fall of the economy. This year, the action passed with 6 on June 8 and was the mass new contract terminated by signing. The Action of such scale is subsidized by government of China, but organizing questions undertakes the company Reed Exhibitions, in effect what efficiency given actions increases mnogokratno.
On exhibition possible was see practically all commencing from equipment on mining bauxite and finishing all spectrum to finished products, the whole that that strictly possible to make at our aluminum time and its splavov.
In the same way enterprises that concern with introduction new technology in aluminum industry were on this exhibition. At the point developments of the technical progress, what country more uses new technologies, that and has on finish of the year greater annual pribyli.
Exhibition in Shanghai this not simply presentation action, this and training seminar and master class on miscellaneous of the sort to directions,than more similar directions of the exhibitions, but their plenty of in summer was in China ( Copper China, Composite China, Magnesium China, Green Processing and Industrial Materials China 2012), that are more stimulated issue aluminum and aluminum product both in most China, and for its limit.
---
комментарии (0)

Обновить
---
Line speediest train is started In China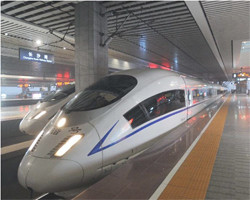 the December 26 in China have started in deal the too long railway pathway on which will be able to move the speed train. The Route is listed as G502 and has connected two high developed in industrial attitude of the city Guanichzhou and Pekin. The Distance between these two cities 2 298 km. The Train преодолеет this distance on velocities in 300 km whole for 8 hours. Usual composition spent on the whole way day, but also that if average velocity on route was 100 km. China constantly modernizes the railway and are chosen area with big passenger turn just. Basically this industrial centres. On given time in China already marketed too long pathway of the speed message.
Today in Ambience composition number 801 successfully went to the first way from station Peking aside Guanichzhou. Departure time 9 mornings. Simultaneously on one and the same route go three trains with difference at time. One came out of Pekin, the second came out of Hanchzhou, but the third came out of city Siani.
After started the new railway general extent speed pathways in China reached 9.3 thous. km, but after pair of the years on calculation she already will as minimum in two times long.