The Chinese are prepared to send to Mars its managed probe
Chinese experts in the field of space research announced their plans for the future. In the future, China will continue to develop the Lunar program. But other than the moon that China still has a desire to send a module on Mars. China should not invent a Bicycle here, everything has already been invented and ready for implementation. There is a staff of engineers and achievements, remained to assemble everything together and run! At this time, Chinese leaders do not give permission for the project on Mars, though, and everything is ready. Clearly depends on the financial issues.
As for the Lunar program of China, on the moon in the near future, lunar base of China will not be. We do not have plans to develop long-term stay on our natural satellite. The desire to land on the moon their astronauts China, but after some intermediate solutions yet it was decided to decline until the landing astronauts on our satellite. In the future it will probably happen, but it will not happen earlier than comes 2020.
---
комментарии (0)

Обновить
---
Line speediest train is started In China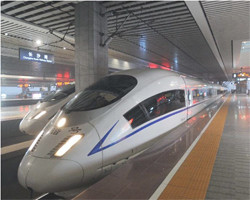 the December 26 in China have started in deal the too long railway pathway on which will be able to move the speed train. The Route is listed as G502 and has connected two high developed in industrial attitude of the city Guanichzhou and Pekin. The Distance between these two cities 2 298 km. The Train преодолеет this distance on velocities in 300 km whole for 8 hours. Usual composition spent on the whole way day, but also that if average velocity on route was 100 km. China constantly modernizes the railway and are chosen area with big passenger turn just. Basically this industrial centres. On given time in China already marketed too long pathway of the speed message.
Today in Ambience composition number 801 successfully went to the first way from station Peking aside Guanichzhou. Departure time 9 mornings. Simultaneously on one and the same route go three trains with difference at time. One came out of Pekin, the second came out of Hanchzhou, but the third came out of city Siani.
After started the new railway general extent speed pathways in China reached 9.3 thous. km, but after pair of the years on calculation she already will as minimum in two times long.