China has launched two new satellites to photograph the surface of the planet
China stamps satellites on the stream, if Russia did, then probably every Federal region would have its own repeater in space, but alas, Russia is not China, Russia is an oil power:) but back to our rams... In China launched another satellite, this time they were even twice as large as usual. Brought the satellites on the launch of the Great campaign 11. Satellites were created for multispectral photography of the planet`s surface. The Chinese have successfully brought satellites into space and put them on the desired orbital altitude. This kind of satellites already fly in space, in this case in grouping added even couple of new samples with more advanced opportunities. Satellites created in the laboratories of China and if they are as durable as those tires for bicycles that China supplies to Russia, for a long time this miracle in orbit clearly will not exist. If the engineers from the company Chang Guang Satellite Technology Co. Ltd do everything the same as Czechs the beer, I for these devices am sure for all 100%. The satellites installed high-quality photo cameras that will take pictures in the thermal spectrum. All these satellites in the group Jilin 1 10 pieces and they are almost constantly studying the forests of China. In addition, this type of satellite is easily adapted to other tasks and can even monitor the navigation or traffic arteries in the country.
---
комментарии (0)

Обновить
---
Line speediest train is started In China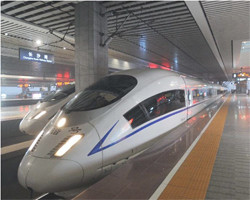 the December 26 in China have started in deal the too long railway pathway on which will be able to move the speed train. The Route is listed as G502 and has connected two high developed in industrial attitude of the city Guanichzhou and Pekin. The Distance between these two cities 2 298 km. The Train преодолеет this distance on velocities in 300 km whole for 8 hours. Usual composition spent on the whole way day, but also that if average velocity on route was 100 km. China constantly modernizes the railway and are chosen area with big passenger turn just. Basically this industrial centres. On given time in China already marketed too long pathway of the speed message.
Today in Ambience composition number 801 successfully went to the first way from station Peking aside Guanichzhou. Departure time 9 mornings. Simultaneously on one and the same route go three trains with difference at time. One came out of Pekin, the second came out of Hanchzhou, but the third came out of city Siani.
After started the new railway general extent speed pathways in China reached 9.3 thous. km, but after pair of the years on calculation she already will as minimum in two times long.