Flew in space another spaceship with two astronauts on board
China is not a country in which you are engaged in rice cultivation and breeding of the silkworm with the subsequent manufacture of fine silk and handmade. China is a country of amazing opportunities the country in which the biggest Army, and there are three Grand spaceport from which at this time not only in orbit satellites, but launch a manned mission. Recently, Chinese media reported on the successful launch of spacecraft Shenzhou-11 on Board into orbit flew two cosmonauts. The as
tronauts
in a special compartment will hold more than a month, and then will return to the Earth. In the program of the mission for several unique experiments. A managed module was successfully launched from the spaceport in the desert area of Gobi. Delivered the module to a height of 393 km coach of Chinese production Changzheng-2F. All went normally as
tronauts
Jing HIPAA and Chen Dong feel good. One of the as
tronauts
already in orbit for the third time, his companion yet a beginner. While China launches space mission and launches them successfully. In the future there is a question about flying into orbit of the moon and sending spacecraft to Mars. What actually will come time will tell, but given hard work and perseverance of the Chinese engineers, as well as a love of plagiarism and copying the best designs from around the world, with the big share of probability it is possible to argue that China will pose a serious competition of Russia and the United States in the space industry.
[中国新闻]神舟十一号载人飞船发射成功
---
Comments (0)

Update capcha
---
China started the project "temple of the moon"
The project, which is planned by the scientists should clarify the situation regarding the health of astronauts after a long stay in a closed space called "Wagon-365" - "the Temple of the moon." At the initial stage of the project the group included two men and two women, now earth, the astronauts are sealed in a special box, the project started on may 10, 2017....
Flew in space another spaceship with two astronauts on board
China is not a country in which you are engaged in rice cultivation and breeding of the silkworm with the subsequent manufacture of fine silk and handmade. China is a country of amazing opportunities the country in which the biggest Army, and there are three Grand spaceport from which at this time not only in orbit satellites, but launch a manned mission....
Line speediest train is started In China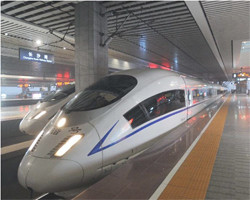 the December 26 in China have started in deal the too long railway pathway on which will be able to move the speed train. The Route is listed as G502 and has connected two high developed in industrial attitude of the city Guanichzhou and Pekin. The Distance between these two cities 2 298 km. The Train преодолеет this distance on velocities in 300 km whole for 8 hours. Usual composition spent on the whole way day, but also that if average velocity on route was 100 km. China constantly modernizes the railway and are chosen area with big passenger turn just. Basically this industrial centres. On given time in China already marketed too long pathway of the speed message.
Today in Ambience composition number 801 successfully went to the first way from station Peking aside Guanichzhou. Departure time 9 mornings. Simultaneously on one and the same route go three trains with difference at time. One came out of Pekin, the second came out of Hanchzhou, but the third came out of city Siani.
After started the new railway general extent speed pathways in China reached 9.3 thous. km, but after pair of the years on calculation she already will as minimum in two times long.