In the near future possible joint Russian-Chinese mission to the moon and to Mars
If you believe what the press writes Chinese, arrived in China with official visit the chief managing Director of Roscosmos Igor Komarov, he was negotiating with representatives of the space Agency of China. In China, first began to
celebrate
the cosmonautics day, and on this occasion decided to invite the representative from Russia. Previously had not
celebrate
d this holiday, the ego just wasn`t in the list of holidays in China. The first satellite China has launched 24 April 1970, and it was called "dunfanhun-1". Now you can see it`s time to
celebrate
day of Astronautics, China space power Stahl! The talks were held in a friendly environment, agencies have agreed on joint missions to Mars and to the moon. In the future Chinese and Russian cosmonauts will be more likely to meet in earth orbit, will carry out joint experiments. Two super powers will help each other in space exploration. At this time, the ALL countries have a greater ability to monitor the Earth`s surface and are now able to more quickly respond to different disasters.
---
комментарии (0)

Обновить
---
China will be awarded the order of Friendship of China for the first time
The order of friendship of China was first awarded on June 8, before such a high government award of China was not given to anyone. The decree on awarding a new distinctive award has already been signed by the top leadership of the Communist party of China. This high award was established to celebrate the outstanding contribution to the development of the socialist modernization of China....
On the Eve of the New year holiday in China began a flower boom
Flowers is a sign of good tone, a sign of good mood, if anyone wants to Express their gratitude to you, as at least he will give a floral bouquet. The Chinese are not far from this subject and quite predictable on the eve of the new year`s eve on the Eastern calendar. The Chinese are now storming the flower markets in search of cheaper bouquets in order to create a spring mood in your home on new year`s eve....
Line speediest train is started In China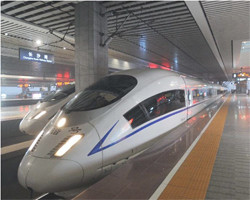 the December 26 in China have started in deal the too long railway pathway on which will be able to move the speed train. The Route is listed as G502 and has connected two high developed in industrial attitude of the city Guanichzhou and Pekin. The Distance between these two cities 2 298 km. The Train преодолеет this distance on velocities in 300 km whole for 8 hours. Usual composition spent on the whole way day, but also that if average velocity on route was 100 km. China constantly modernizes the railway and are chosen area with big passenger turn just. Basically this industrial centres. On given time in China already marketed too long pathway of the speed message.
Today in Ambience composition number 801 successfully went to the first way from station Peking aside Guanichzhou. Departure time 9 mornings. Simultaneously on one and the same route go three trains with difference at time. One came out of Pekin, the second came out of Hanchzhou, but the third came out of city Siani.
After started the new railway general extent speed pathways in China reached 9.3 thous. km, but after pair of the years on calculation she already will as minimum in two times long.