The moon went to another Chinese station
On the eve of the weekend China pronounced the two journalists about the successful launch of another space probe. The launch was made without any problems from Baikonur Xichang, as the vehicle this time was used Chinese missile Long March-3C. The container module will have to fly to the moon, and after to make a circle and return home. Chinese engineers believe that to conduct this flight and successful return capsule home will take them a little over a week. Himself, the spacecraft was manufactured in China, all Chinese
technology
, all employees of the defence Department of the Chinese people. The landing place for the module identified in the region of Inner Mongolia. Such a trip and a quick return is just the
technology
that scientists will use in the course of the experiment Chayne-5 , and it is essentially a manned mission on the moon and return to Earth. Work heat shields, navigation and communication. Also will be working out the trajectory for future missions. To start Chayne-5 , there are not a lot of time in 2017 China plans to send to the moon Chinese astronaut.
---
Comments (0)

Update capcha
---
China successfully launched the second group of satellites "Zhuhai-1"
The rocket is assembled in Chinese factories in which all fully of screws to the trim panel made in China successfully held the start from the cosmodrome Jiuquan located in the Northwest of China. The Changzheng-11 missile launched the second group of satellites for remote sensing of the Earth`s surface. The satellites of this series are called "Zhuhai-1", the satellites are not large and this time they were displayed at once five pieces....
China will seek breakthroughs in integrated circuit technology
The lion`s share of semiconductor production is concentrated in Samsung factories, Koreans cover the lion`s share of requests in terms of chips and semiconductor elements. China though is for the production of semiconductor products in third place, but still dreams of leadership in the industry. The Chinese Ministry of industry recently told the press that China will seek breakthrough technology in the field of semiconductor production....
Line speediest train is started In China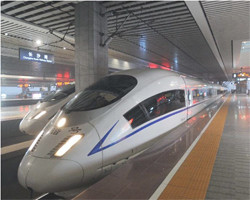 the December 26 in China have started in deal the too long railway pathway on which will be able to move the speed train. The Route is listed as G502 and has connected two high developed in industrial attitude of the city Guanichzhou and Pekin. The Distance between these two cities 2 298 km. The Train преодолеет this distance on velocities in 300 km whole for 8 hours. Usual composition spent on the whole way day, but also that if average velocity on route was 100 km. China constantly modernizes the railway and are chosen area with big passenger turn just. Basically this industrial centres. On given time in China already marketed too long pathway of the speed message.
Today in Ambience composition number 801 successfully went to the first way from station Peking aside Guanichzhou. Departure time 9 mornings. Simultaneously on one and the same route go three trains with difference at time. One came out of Pekin, the second came out of Hanchzhou, but the third came out of city Siani.
After started the new railway general extent speed pathways in China reached 9.3 thous. km, but after pair of the years on calculation she already will as minimum in two times long.