Russia and China are increasing cooperation in space, to build a new laboratory
China is not a third-rate country, it is a state which is steadily increasing its capacity in space exploration. The country was cooperating with all countries receiving mutual benefit to all move in their development. High-tech European companies to do orders on a money rich China, all benefit from developing Asia.
In Russia in the near future on the basis of Samara state aerospace University, named for the legendary designer S. P. Korolev, create joint efforts, Chinese-Russian science lab. In this laboratory research will be conducted on a joint basis in the field of cable
systems
. To cooperate with China will be scientists from northwestern Polytechnical University located in XI`an. To run the lab will be two professors, one from China, Wang Wei and from Russia Sergey Ishkov. "Space tether
systems
" - the direction a little advanced, but very actively discussed. Using such
systems
can be reused to save fuel and resources during the descent of the cargo from orbit. If you have a sufficiently strong and light materials for construction hoisting Elevator, then it is possible to build a device that will be lighter loads to lift into orbit using a conventional space Elevator. While this is all science fiction, but scientists from China and Russia believe that if applied to the topic Russian intelligence and Chinese money, you get at least a "quantum leap" in this direction, which actually expect those who this subject expands on the basis of Samara University.
---
комментарии (0)

Обновить
---
China has created a boat with stealth technology
The missile boat has a high speed and stealth, can go to the firing position as stealthily as possible, and if necessary can interfere with the enemy`s radio communication
systems
. About the new Chinese army first wrote to the portal mil.sina.cn The main feature of the new boat may be that it can move without a crew, can go to the target under remote control....
In China, the number of 4G users increased to 1.24 billion
The Chinese statistical office reported that 1.24 billion people in the country use high-speed communication of the 4th generation. Cellular networks in China are actively developing, 5th generation networks are being built, infrastructure is growing and expanding....
Line speediest train is started In China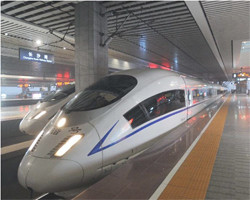 the December 26 in China have started in deal the too long railway pathway on which will be able to move the speed train. The Route is listed as G502 and has connected two high developed in industrial attitude of the city Guanichzhou and Pekin. The Distance between these two cities 2 298 km. The Train преодолеет this distance on velocities in 300 km whole for 8 hours. Usual composition spent on the whole way day, but also that if average velocity on route was 100 km. China constantly modernizes the railway and are chosen area with big passenger turn just. Basically this industrial centres. On given time in China already marketed too long pathway of the speed message.
Today in Ambience composition number 801 successfully went to the first way from station Peking aside Guanichzhou. Departure time 9 mornings. Simultaneously on one and the same route go three trains with difference at time. One came out of Pekin, the second came out of Hanchzhou, but the third came out of city Siani.
After started the new railway general extent speed pathways in China reached 9.3 thous. km, but after pair of the years on calculation she already will as minimum in two times long.