China sent into space a telescope to study black holes and pulsars
In China has created the last years all the most modern and the highest quality. Not only is China the fastest growing economy in the world, it is also a country which is committed to be first in all fields of science and technology. With this purpose was created, and later launched the most advanced satellite for observation of distant pulsars and black holes. Orbital
telescope
successfully created Chinese scientists later successfully launched into orbit, and now the device is already in the works and studying distant galaxies. Start made on 15 June 2017, put into orbit a
telescope
rocket created by Chinese craftsmen - "Changzheng-4B". Start conducted from the Baikonur Jiuquan. Telescope Hard X-ray Modulation Telescope (HXMT) will be their sensors to catch x-rays from distant pulsars. The device weighs 2.5 tons and rotates on orbit of 550 km, the Telescope will be able to track flash x-ray, ate even will go "gravitational waves", they will also be able to fix. Experts from China would like to study x-ray pulsars is good enough in the future possibly can be used as beacons during long flights in deep space. Chinese scientists look to the future, although as shown by scientific study, mankind at least another 500 years will not leave the Solar system, and if so, then perhaps the task of studying pulsars is not the most relevant for such a powerful
telescope
. What pulsars are, no one rejects this claim, but also to study them on Earth, it is not real, as the density of conventional nuclear approaches pulsar, and this is in laboratory conditions on the Earth`s surface was unable to repeat. That is to create more sophisticated devices for remote surveillance. In this area, Chinese scientists were the best in 2017.
---
комментарии (0)

Обновить
---
Chinese probe landed successfully on the back of the moon
China has reached unprecedented heights in the development of the nearest space, on the back side of the moon landed the first Chinese probe. The automatic station transmitted to Earth the first images of the surface, which humanity for thousands of years has never seen. The first images on the Ground came to the control center on January 3, 2019. The network already has photos, the Chinese space Agency has already published them....
Chinese scientists over the past five years have made many unique discoveries
If you believe everything that is reported by the Chinese Agency Xinhua, it turns out that in China scientists are not in vain eat their own bread. They sometimes something interesting still creating in their laboratories. China is developing very fast, if this will continue to happen, then after 30 years, Russia and its progress will seem an ordinary village in comparison with what will happen in China....
Line speediest train is started In China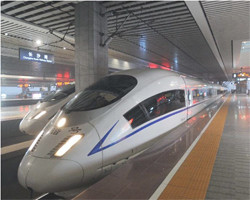 the December 26 in China have started in deal the too long railway pathway on which will be able to move the speed train. The Route is listed as G502 and has connected two high developed in industrial attitude of the city Guanichzhou and Pekin. The Distance between these two cities 2 298 km. The Train преодолеет this distance on velocities in 300 km whole for 8 hours. Usual composition spent on the whole way day, but also that if average velocity on route was 100 km. China constantly modernizes the railway and are chosen area with big passenger turn just. Basically this industrial centres. On given time in China already marketed too long pathway of the speed message.
Today in Ambience composition number 801 successfully went to the first way from station Peking aside Guanichzhou. Departure time 9 mornings. Simultaneously on one and the same route go three trains with difference at time. One came out of Pekin, the second came out of Hanchzhou, but the third came out of city Siani.
After started the new railway general extent speed pathways in China reached 9.3 thous. km, but after pair of the years on calculation she already will as minimum in two times long.