The new chinese satellite have took out from cosmodrome Tayuani
The China in the next time has demonstrated to whole World importance own cosmic program, in cosmos has flown the next climatic satellite. The satellite with cosmodrome Tayuani has removed the rocket CHANCHZHEN-2S . The satellite uncared-for for the reason climatic monitoring and is equipped by modern radar and system data processing. The Purpose of the start study surrounding ambiences.
Data about successful start the satellite has reported the chinese agency Sinihua. The satellite as it is expected will is used for monitoring the weather on China and will allow more operative to get given on climatic change and ecological cataclysm. The Group climatic satellite was approved old long ago as far back as 2003 and is thereafter realized by plane.
The satellite Huaniczin-1c, created the scientist from China on base of the material base and scientific developments of the own base. The China on essences has already produced 171-first successful starts of the cosmic device. Not super success, but achievement evident in the world of the cosmic studies.
---
комментарии (0)

Обновить
---
Line speediest train is started In China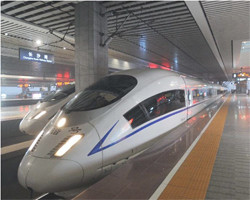 the December 26 in China have started in deal the too long railway pathway on which will be able to move the speed train. The Route is listed as G502 and has connected two high developed in industrial attitude of the city Guanichzhou and Pekin. The Distance between these two cities 2 298 km. The Train преодолеет this distance on velocities in 300 km whole for 8 hours. Usual composition spent on the whole way day, but also that if average velocity on route was 100 km. China constantly modernizes the railway and are chosen area with big passenger turn just. Basically this industrial centres. On given time in China already marketed too long pathway of the speed message.
Today in Ambience composition number 801 successfully went to the first way from station Peking aside Guanichzhou. Departure time 9 mornings. Simultaneously on one and the same route go three trains with difference at time. One came out of Pekin, the second came out of Hanchzhou, but the third came out of city Siani.
After started the new railway general extent speed pathways in China reached 9.3 thous. km, but after pair of the years on calculation she already will as minimum in two times long.