China will catch students scams spetsialny drone
If students in China want to get one of the most
difficult
exams for admission to the University or they will have to learn very well, or to deal with a patrol drone. National entrance examination for higher education, also known as "gaokao", is held annually and determines whether young people in the future to have the opportunity to get into prestigious universities. Some have described this test as "the most
difficult
exam in the world, and students often get nervous crises and trauma is a huge stress. With that written, it is not surprising that many candidates are trying to cheat the system, send copies of test questions to their associates on the street, which later give them the answers. This occurs most often with the use of different radio controlled devices, but that is all history. China wants to destroy this vicious practice, and to do this in one of the provinces currently uses special patrol drone, which tracks radio frequency. When the machine will detect a flying drone with answers to the questions, it will give the right coordinates of the attacker . Penalties for cheating this test is quite serious (well, not to mention North Korea they are serious, if you get caught to find a University will be much more
difficult
), so authorities are hoping that the threat from the skies, sufficient to withdraw pupils from such attempts. Young people around the world have one very important quality ? not to surrender to such a minimal burden, so we are skeptical of this drone - guard.
---
комментарии (0)

Обновить
---
Unusual virus escaped to freedom in China
The news that a strange epidemic is raging somewhere in China has already struck everyone. They write that about 44 people were hospitalized with strange symptoms. 11 patients in very critical condition. Moreover, no one can yet exactly find the cause of the disease, the virus that causes this manifestation has not been identified. There is no virus, there is no solution to the disease....
China demonstrated a new spacecraft
In China, preparations for the Lunar mission are in full swing, new technologies are being developed, a rocket is being built, and the state is increasing funding. Recently, developers from China showed a new spacecraft to conquer the moon, it can also be used in the future and other longer flights to the nearest space. It is essentially a variant of the interplanetary spacecraft of the future....
Line speediest train is started In China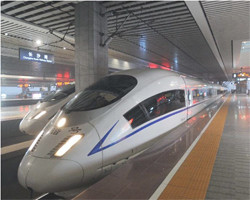 the December 26 in China have started in deal the too long railway pathway on which will be able to move the speed train. The Route is listed as G502 and has connected two high developed in industrial attitude of the city Guanichzhou and Pekin. The Distance between these two cities 2 298 km. The Train преодолеет this distance on velocities in 300 km whole for 8 hours. Usual composition spent on the whole way day, but also that if average velocity on route was 100 km. China constantly modernizes the railway and are chosen area with big passenger turn just. Basically this industrial centres. On given time in China already marketed too long pathway of the speed message.
Today in Ambience composition number 801 successfully went to the first way from station Peking aside Guanichzhou. Departure time 9 mornings. Simultaneously on one and the same route go three trains with difference at time. One came out of Pekin, the second came out of Hanchzhou, but the third came out of city Siani.
After started the new railway general extent speed pathways in China reached 9.3 thous. km, but after pair of the years on calculation she already will as minimum in two times long.