In China found a solution to the problems of urban transport (video)
In the month of may, the Internet appeared pictures of strange bus under the wheels of which on roads of two lanes of moving cars transport. It was proposed as a solution to the serious
problems
in China associated with traffic.
Fortunately, the Chinese company, which designed the bus listened to Internet applications project fans and really created quite an interesting bus. According to the Agency "Xinhua News, "TEB"-1 or "Elevated Bus" was tested for the first time in Zinchaung, in Hebei province in northeast China.
The photograph shows the spacious interior, which has almost 22 metres in length and just over 7.5 meters in length. It was nearly 5 metres above the ground and offers more than 2 meters space underneath (2 lanes in one direction) for other vehicles that pass without
problems
. The bus can travel up to 300 passengers.
"TEB-1" was first presented in 2010, and in may last year, was shown again on the 19th edition of the "International High-Tech Expo in Beijing. The designer of the bus said that the prototypes were created in five cities Ц Nanyan, Sinheungsa, Shenyang, Tianjin and Zhoukou Ц the municipalities of these cities have signed contracts with TEB Technology Development Company to test pilot projects.
---
Comments (0)

Update capcha
---
China will seek breakthroughs in integrated circuit technology
The lion`s share of semiconductor production is concentrated in Samsung factories, Koreans cover the lion`s share of requests in terms of chips and semiconductor elements. China though is for the production of semiconductor products in third place, but still dreams of leadership in the industry. The Chinese Ministry of industry recently told the press that China will seek breakthrough technology in the field of semiconductor production....
Chinese scientists over the past five years have made many unique discoveries
If you believe everything that is reported by the Chinese Agency Xinhua, it turns out that in China scientists are not in vain eat their own bread. They sometimes something interesting still creating in their laboratories. China is developing very fast, if this will continue to happen, then after 30 years, Russia and its progress will seem an ordinary village in comparison with what will happen in China....
Line speediest train is started In China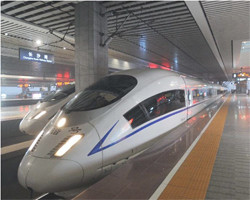 the December 26 in China have started in deal the too long railway pathway on which will be able to move the speed train. The Route is listed as G502 and has connected two high developed in industrial attitude of the city Guanichzhou and Pekin. The Distance between these two cities 2 298 km. The Train преодолеет this distance on velocities in 300 km whole for 8 hours. Usual composition spent on the whole way day, but also that if average velocity on route was 100 km. China constantly modernizes the railway and are chosen area with big passenger turn just. Basically this industrial centres. On given time in China already marketed too long pathway of the speed message.
Today in Ambience composition number 801 successfully went to the first way from station Peking aside Guanichzhou. Departure time 9 mornings. Simultaneously on one and the same route go three trains with difference at time. One came out of Pekin, the second came out of Hanchzhou, but the third came out of city Siani.
After started the new railway general extent speed pathways in China reached 9.3 thous. km, but after pair of the years on calculation she already will as minimum in two times long.