In China will grow more potatoes
At present in China for more than just grow corn, rice and wheat, potatoes, not so all is well. In the future the country-s plans to rectify the current imbalance in favour of the potatoes and the potatoes will become a strategically important crop in the country, in this positive vein spoke officials and the Ministry of agriculture of China. The bottom line is that the Chinese wanted the potatoes to process that output could get a lot of useful
products
from bread and potato noodles. Maybe even something like chips or dumplings, but with a Chinese accent. The Chinese love noodles and dumplings, this is their main food. If so, the potato is not an additional product, and main. Land in China is not so much, and
products
need more, increase the yield of rice and wheat is not already leads to a significant increase
products
. The potatoes in this respect much more productive vegetable, with the same land, you can get much more useful fiber and starch. China makes all translational and all strategically important task is to provide the population with food. China knows how to grow potatoes, it is cultivated for over 400 years, under the potatoes at this time more than 5 million hectares, in the future this figure will probably double or even triple.
---
Comments (0)

Update capcha
---
China will seek breakthroughs in integrated circuit technology
The lion`s share of semiconductor production is concentrated in Samsung factories, Koreans cover the lion`s share of requests in terms of chips and semiconductor elements. China though is for the production of semiconductor products in third place, but still dreams of leadership in the industry. The Chinese Ministry of industry recently told the press that China will seek breakthrough technology in the field of semiconductor production....
Beidou navigation system in the service of Chinese peasants
The Chinese are increasingly using the charms of the Beidou navigation system in agriculture.this year, the press makes a lot of references to the fact that this system has facilitated the work of farmers in some sense. On the video hosting you can see a lot of videos on which Chinese tractors in the North-West of the country moving on the field with reference to the navigation "Beidou"....
Line speediest train is started In China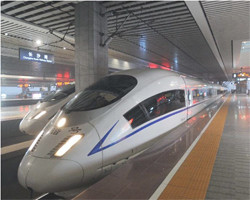 the December 26 in China have started in deal the too long railway pathway on which will be able to move the speed train. The Route is listed as G502 and has connected two high developed in industrial attitude of the city Guanichzhou and Pekin. The Distance between these two cities 2 298 km. The Train преодолеет this distance on velocities in 300 km whole for 8 hours. Usual composition spent on the whole way day, but also that if average velocity on route was 100 km. China constantly modernizes the railway and are chosen area with big passenger turn just. Basically this industrial centres. On given time in China already marketed too long pathway of the speed message.
Today in Ambience composition number 801 successfully went to the first way from station Peking aside Guanichzhou. Departure time 9 mornings. Simultaneously on one and the same route go three trains with difference at time. One came out of Pekin, the second came out of Hanchzhou, but the third came out of city Siani.
After started the new railway general extent speed pathways in China reached 9.3 thous. km, but after pair of the years on calculation she already will as minimum in two times long.