Kg. tea from China on price 9.5 thous. dollars
Kg. tea from China on price 9.5 thous. dollars
In China passed the
auction
on which sold the sort miscellaneous of tea and one sort Pit of the Dragon was sold on the price nine with half of a thousands of the dollars for one kg. This not record, last month on such
auction
in city Hanchzhou tea of the sort Pit of the Dragon was sold vastly cherish. The Price of 1 kg of tea has formed 57 thous. of dollars. The Sort of tea obviously especial and very rare, is going to the tea leaf in eve of the great holiday Cinmin just. It Is Celebrated this holiday each day in miscellaneous time, but that about 2012 year that celebration has stored on 4 April. Tea of such sort grows in region lake Sihu only. Tea is identified Pit of the dragon before rain .
The China this tearoom country and in China sprouts plenty of sorts of tea, but that about tea "Pit of the dragon before rain" , so it probably the most best in categories green tea. On plantations near lake constantly collect tea and often conduct like aukciony.
China in the same way and importer and exporter and consumer in greater amount of tea. For 2011 China as tea sheet has comsumed more 1 million of tons . In percent correlation from world tea production China on first place with have 33% or 1.4 million of tons of the tea leaf per annum.
---
комментарии (0)

Обновить
---
On the Eve of the New year holiday in China began a flower boom
Flowers is a sign of good tone, a sign of good mood, if anyone wants to Express their gratitude to you, as at least he will give a floral bouquet. The Chinese are not far from this subject and quite predictable on the eve of the new year`s eve on the Eastern calendar. The Chinese are now storming the flower markets in search of cheaper bouquets in order to create a spring mood in your home on new year`s eve....
At a Sotheby is auction in Hong Kong exhibited a very expensive jewelry
The last time an English auction Sotheby is pumped to Asia, all apparently because in this part of the Earth very many rich people, those who would like to spend your money on something luxurious. At the last auction in Hong Kong presented a very expensive necklace and pearl jewelry. Grey pearls are very rare in the jewelry industry material, because of it, and created a collection of jewelry....
Line speediest train is started In China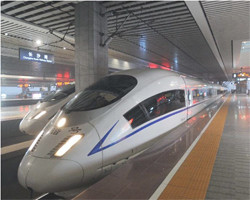 the December 26 in China have started in deal the too long railway pathway on which will be able to move the speed train. The Route is listed as G502 and has connected two high developed in industrial attitude of the city Guanichzhou and Pekin. The Distance between these two cities 2 298 km. The Train преодолеет this distance on velocities in 300 km whole for 8 hours. Usual composition spent on the whole way day, but also that if average velocity on route was 100 km. China constantly modernizes the railway and are chosen area with big passenger turn just. Basically this industrial centres. On given time in China already marketed too long pathway of the speed message.
Today in Ambience composition number 801 successfully went to the first way from station Peking aside Guanichzhou. Departure time 9 mornings. Simultaneously on one and the same route go three trains with difference at time. One came out of Pekin, the second came out of Hanchzhou, but the third came out of city Siani.
After started the new railway general extent speed pathways in China reached 9.3 thous. km, but after pair of the years on calculation she already will as minimum in two times long.