Exchange reserves China is growing up!
The Chinese economy is bored develops, but chinese government digs the
exchange
spare. As of international bank in China of currency in spare of the order 3 trillion 350 mlrd dollars. This probably the largest
exchange
reserve amongst all countries in the world. These data has confirmed the Public bank of China.
This year, the
exchange
reserves in China continue rapidly to grow up, already for the first-quarter 2012 they have growned on $123,852 mlrd.
For the last years at the average China accumulated on 333.8 mlrd dollars per annum. The Researchers to economic situation in China confirm that growing of the economy of China little was slowed and accumulate the China became currency less. Possible credit policy in China will become else more soft, this will bring about additional stimulation demand for goods of Chinese industry both on external, and on home markets.
---
комментарии (0)

Обновить
---
Chinese unmanned helicopter with missiles on board
Chinese experts are actively developing drones flying through the air, these are also familiar planes, as well as helicopters. The real achievements of the Chinese engineers could be seen live in Dubai at the last Dubai Airshow exhibition, and on the Internet on special channels about military equipment you can also see everything if you wish. Chinese unmanned aerial support for troops last year replenished with a new helicopter....
Talents are growing in rural areas of China
The Chinese hinterland is full of various strange crafts, if the era of high technology reigns in large cities, then in remote villages there is still a natural
exchange
. If you know how to do something well, then you will never be left without a piece of bread....
Line speediest train is started In China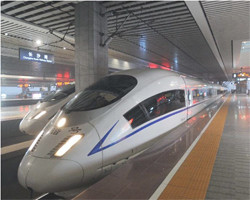 the December 26 in China have started in deal the too long railway pathway on which will be able to move the speed train. The Route is listed as G502 and has connected two high developed in industrial attitude of the city Guanichzhou and Pekin. The Distance between these two cities 2 298 km. The Train преодолеет this distance on velocities in 300 km whole for 8 hours. Usual composition spent on the whole way day, but also that if average velocity on route was 100 km. China constantly modernizes the railway and are chosen area with big passenger turn just. Basically this industrial centres. On given time in China already marketed too long pathway of the speed message.
Today in Ambience composition number 801 successfully went to the first way from station Peking aside Guanichzhou. Departure time 9 mornings. Simultaneously on one and the same route go three trains with difference at time. One came out of Pekin, the second came out of Hanchzhou, but the third came out of city Siani.
After started the new railway general extent speed pathways in China reached 9.3 thous. km, but after pair of the years on calculation she already will as minimum in two times long.