The Train CRH-380В
The Chinese agency Sinihua has reported interesting information on construction of the new type speed train. The Train CRH-380В pertains to type very quick train capable to work in condition of the low
temperature
. So far train is not created, but work on stage of the termination already. The Innovative idea which have realized the chinese engineers will allow the train to go at the speed of order 350 km at hour under low
temperature
. The Development leads the industrial group CNR Corp ltd. So that created company train not only will only become the most quick, but also will be able to move in cool width with such velocity either as under normal year
temperature
. CRH-380В, this best chinese analogue in like direction. Given development will find its realization in North China, it's become deserted on lines between Dalyanem and Harbinom. This part of China has a long cool periods at year, but even though chill will approximately -40 degrees, that train will don't care be capable orderly to work. CRH-380В has a length more than 200 metres. Such train for given lines company will release 40 pieces, total cost of the project of the order 1.3 mlrd dollars. On today in the world exists three pathways in north width, all of these are located in Europe and Russia, 700 km each do not exceed on extent of the pathways separately. The most speed north train is this certainly russian Sapan he goes on route Moscow and SAINT PETERSBURG, but it will not be able under existing condition to move long even on velocities 250 km at hour.
---
комментарии (0)

Обновить
---
Chinese engineers have created a new type of thermal insulation material
If you believe what the Chinese media report, it turns out that the Chinese sample of thermal insulation material is the best in the world, it is essentially a breakthrough technology. The material parameters are such that it can retain heat in a closed volume for a long time, both at very high temperatures and at low temperatures. It is possible on its basis to make bags refrigerators, the principle of which is very simple....
Chinese officials want to chip all students in educational institutions of the country
In China, there is a fusion of human biological capabilities with what is called electronics. So far, increasingly in the news flashed a message about something smart, "smart home", "smart train". And now the turn came to hear the word smart suit for a student. The Chinese school decided to introduce a school uniform, which would allow to track the movement of the student in the process of moving outside the house....
Line speediest train is started In China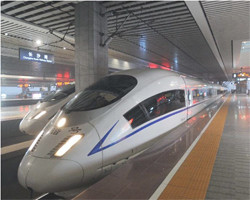 the December 26 in China have started in deal the too long railway pathway on which will be able to move the speed train. The Route is listed as G502 and has connected two high developed in industrial attitude of the city Guanichzhou and Pekin. The Distance between these two cities 2 298 km. The Train преодолеет this distance on velocities in 300 km whole for 8 hours. Usual composition spent on the whole way day, but also that if average velocity on route was 100 km. China constantly modernizes the railway and are chosen area with big passenger turn just. Basically this industrial centres. On given time in China already marketed too long pathway of the speed message.
Today in Ambience composition number 801 successfully went to the first way from station Peking aside Guanichzhou. Departure time 9 mornings. Simultaneously on one and the same route go three trains with difference at time. One came out of Pekin, the second came out of Hanchzhou, but the third came out of city Siani.
After started the new railway general extent speed pathways in China reached 9.3 thous. km, but after pair of the years on calculation she already will as minimum in two times long.