New car from Quoros
China know to do not only qualitative telephones, but also spaceships rather nice auto. The Speech in this instance goes about innovative decision from company Quoros, about this have reported the chinese mass media.
The Development such here is car concerned with basically chinese specialists, even design did the independent designer Jam Barretom, certainly he not itself all so evil have made, is obviously felt influence specialist from company Quoros. That developers from company Quoros wanted to surprise the world and not to change its stiletto this fact. Look at photo of the new car and see that all as it were in one riverbed, but in absolutely new forshortening. The Novelty will possible expect in sale in 2020. Earlier china people from this
companies
shown its brainchild in the form sedan, this design was designed Gertom Hilidebrandom, too very known in car world of the person.
The History reference.
The Company Quoros and mark auto appeared not on nonentities. This united company from chinese capital and jewish intellect, that бишь the chinese company Chery and Israell company Israel Corporation. Began all with Europe, there was open dizain studio where strictly and began work on creation new sample technology future.
Worked and work in
companies
designers from Volkswagen and BMW. Their from have there ed for greater remuneration. Already through pair of the years updated company Quoros plans to release поряядка 150 thousand cars, basically big part of machines will is sold in Europe. The New machines chinese producer will show on exhibition in following 2013.
---
комментарии (0)

Обновить
---
In China, you can switch to any mobile operator with the same number
Probably convenient when the market suddenly appears at some operator favorable rate and you without losing your number go to it almost without any difficulties. In China, such a service is already in operation and now mobile operators must at least negotiate, and if someone will lower the tariffs, then users can easily get away from the bad conditions of service and the mobile operator with a high fee will remain without users and profits....
In the offshore zone near the coast of China will build a large wind farm
A power plant with a large number of wind turbines will soon be built in the offshore zone on the East coast of China. The preliminary estimate of the project is $ 23.5 billion. The new wind power plant will produce about 10 million kW. The intention to develop investments and build wind farms at sea in Jensu province was signed by the company "Huanen"....
Line speediest train is started In China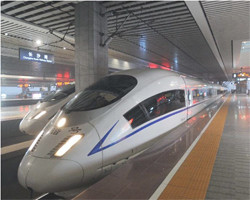 the December 26 in China have started in deal the too long railway pathway on which will be able to move the speed train. The Route is listed as G502 and has connected two high developed in industrial attitude of the city Guanichzhou and Pekin. The Distance between these two cities 2 298 km. The Train преодолеет this distance on velocities in 300 km whole for 8 hours. Usual composition spent on the whole way day, but also that if average velocity on route was 100 km. China constantly modernizes the railway and are chosen area with big passenger turn just. Basically this industrial centres. On given time in China already marketed too long pathway of the speed message.
Today in Ambience composition number 801 successfully went to the first way from station Peking aside Guanichzhou. Departure time 9 mornings. Simultaneously on one and the same route go three trains with difference at time. One came out of Pekin, the second came out of Hanchzhou, but the third came out of city Siani.
After started the new railway general extent speed pathways in China reached 9.3 thous. km, but after pair of the years on calculation she already will as minimum in two times long.