The Chinese company Huawei do not let on to market Australia
The Chinese company Huawei (Rising Sun) have not let to participate in tender for supply of the equipment large Australian project. The Leaders to companies critically commented decision not to let Huawei for participation in contest on the best project of the supply of the equipment for Australian internet magistrali.
Chinese side have beforehand informed on that that Huawei do not become deserted to supply of the equipment for network NBN (National Broadband Network), all this is because ostensibly on the part of China are constantly kiber attacks on important napravleniyah.
In the same way and Australian reconnaissance service Austalian Security Intelligence Organization has emerged earlier with similar advice, abandon to equipment from China. see All this is because company from China and all, but relationship Huawei with kiber attack indeed completely and no. The Company Huawei has even offered for Australian sides to more secret information on cause of its equipment management, but also this has not settled the problem in favour of Huawei.
Find that that official on high level on given question simply not possible, all cite on secrecy negotiations. NBN this project with much billionth embeddings and basically investments go at a rate of government of the Australia. Australia chooses more reliable and more productive equipment, not turning on rather tempting offers from Chinese postavschikov.
In NBN will is embedded order 37 milliard of the dollars and to 2020 whole Australia will have an optical overland network to high reception capacity. The Chinese company Huawei do not let on to market Australia from for close systems of the checking for functioning the equipment and as result company loses the many milliards orders.
---
комментарии (0)

Обновить
---
Line speediest train is started In China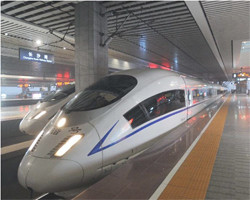 the December 26 in China have started in deal the too long railway pathway on which will be able to move the speed train. The Route is listed as G502 and has connected two high developed in industrial attitude of the city Guanichzhou and Pekin. The Distance between these two cities 2 298 km. The Train преодолеет this distance on velocities in 300 km whole for 8 hours. Usual composition spent on the whole way day, but also that if average velocity on route was 100 km. China constantly modernizes the railway and are chosen area with big passenger turn just. Basically this industrial centres. On given time in China already marketed too long pathway of the speed message.
Today in Ambience composition number 801 successfully went to the first way from station Peking aside Guanichzhou. Departure time 9 mornings. Simultaneously on one and the same route go three trains with difference at time. One came out of Pekin, the second came out of Hanchzhou, but the third came out of city Siani.
After started the new railway general extent speed pathways in China reached 9.3 thous. km, but after pair of the years on calculation she already will as minimum in two times long.