In Urumqi bad weather, fog
Weather greatly affects aviation message, in fog or storm airplanes don not fly, passengers are forced to sit in airports before nature will be restored. At the airport the Xinjiang Uygur Autonomous region of China, in the city of Urumqi are in the waiting room more than 10 thousand passengers, all because the weather turned very bad, heavy fog. Fog does not stop for more than two days, in some parts of the district, it also increased the visibility of several tens of meters, not more. In the city of visibility even on the roads is such that the machine with labour gaining speed greater than 5 km per hour, visibility is almost zero. Already in the hospital got 4 and 22 machines were in a road traffic accident. In another no less important airport in China Diwopu well as difficult weather conditions, there are already cancelled 350 flights and 222 flight waiting for permission to fly. And in the Beijing emissions in the air has reached a critical level, there is no fog of very high cigarette smoke and poor visibility on the roads.
---
Line speediest train is started In China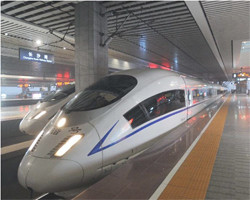 the December 26 in China have started in deal the too long railway pathway on which will be able to move the speed train. The Route is listed as G502 and has connected two high developed in industrial attitude of the city Guanichzhou and Pekin. The Distance between these two cities 2 298 km. The Train преодолеет this distance on velocities in 300 km whole for 8 hours. Usual composition spent on the whole way day, but also that if average velocity on route was 100 km. China constantly modernizes the railway and are chosen area with big passenger turn just. Basically this industrial centres. On given time in China already marketed too long pathway of the speed message.
Today in Ambience composition number 801 successfully went to the first way from station Peking aside Guanichzhou. Departure time 9 mornings. Simultaneously on one and the same route go three trains with difference at time. One came out of Pekin, the second came out of Hanchzhou, but the third came out of city Siani.
After started the new railway general extent speed pathways in China reached 9.3 thous. km, but after pair of the years on calculation she already will as minimum in two times long.