In China built a scenic route, she passed along the river
Chinese builders would like to be the best around, in recent years there is a tough competition among all construction companies in the world, from the development of different projects to the stage of full implementation. China has everything possible to win this race intelligence. There is money and there are construction specialists. In confirmation of this it is worth mentioning magnificent building that just recently appeared on the map of the country in Hubei province, where he built the flyover, which runs on stilts over the deep river. The Chinese called it highway highway environmental. Cut long 4 km goes along the riverbed. Built not because there was no other way, just decided not to spoil the forest, and to put the track in such a way. First, going by land, the plans of the builders of the railway construction had to take place in the picturesque area of the County Hengshan, in fact after the road was built, everything here could hardly be called nature. The residents decided to protest against such development in their areas. Offered to put the road in the tunnel, but when I calculated the cost, we were horrified, turned out to be very
expensive
. Solve the problem for a long time, not until one of the clever engineers proposed to build the track so that is a sly way. The road into the riverbed at the supports, the type as one large multi-kilometer bridge, the total length of
expensive
10.5 km to Build, too
expensive
but not more
expensive
than digging an underground tunnel under the mountain. Now local residents believe that the road was for them not harm, but benefit, this is their new attraction, writes Austrian.
---
Comments (0)

Update capcha
---
For a bride in Russia tour for wealthy suitors China
This experience has long been practiced in Kazakhstan, there are full search for not expensive brides in neighboring Kyrgyzstan, the more that people almost the same, model differences, but there are differences in quality of life. To live in Kyrgyzstan, this is tantamount to fall into the last century, there is cellular communication appeared only in 2007, in Europe it has already been used in all at the end of last century....
Chinese scientists over the past five years have made many unique discoveries
If you believe everything that is reported by the Chinese Agency Xinhua, it turns out that in China scientists are not in vain eat their own bread. They sometimes something interesting still creating in their laboratories. China is developing very fast, if this will continue to happen, then after 30 years, Russia and its progress will seem an ordinary village in comparison with what will happen in China....
Line speediest train is started In China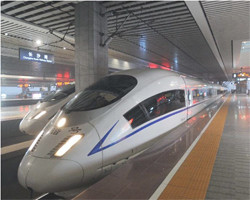 the December 26 in China have started in deal the too long railway pathway on which will be able to move the speed train. The Route is listed as G502 and has connected two high developed in industrial attitude of the city Guanichzhou and Pekin. The Distance between these two cities 2 298 km. The Train преодолеет this distance on velocities in 300 km whole for 8 hours. Usual composition spent on the whole way day, but also that if average velocity on route was 100 km. China constantly modernizes the railway and are chosen area with big passenger turn just. Basically this industrial centres. On given time in China already marketed too long pathway of the speed message.
Today in Ambience composition number 801 successfully went to the first way from station Peking aside Guanichzhou. Departure time 9 mornings. Simultaneously on one and the same route go three trains with difference at time. One came out of Pekin, the second came out of Hanchzhou, but the third came out of city Siani.
After started the new railway general extent speed pathways in China reached 9.3 thous. km, but after pair of the years on calculation she already will as minimum in two times long.